The Culture Gabfest, "King of the Beach" Edition
Listen to Slate's show about the week in culture.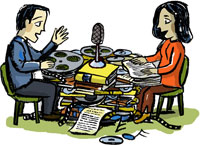 Listen to Culture Gabfest  No. 102  with Jody Rosen, Dana Stevens, and June Thomas by clicking the arrow on the audio player below:
You can also download the program here, or you can subscribe to the weekly Culture Gabfest podcast feed via iTunes or directly with our RSS feed. Find the Culturefest Facebook page here. Leave us a note and see what other listeners have to say about the latest podcast.
This episode is brought to you by Carbonite, the leader in online backup. Carbonite backs up your files automatically, whenever you connect to the Internet. Try Carbonite for free. Go to  Carbonite.com, and enter offer code SLATE. If you decide to buy the service (after the trial), you'll get two months free with offer code SLATE. 
In this week's Culture Gabfest, our critics Jody Rosen, Dana Stevens, and June Thomas discuss this years Emmys ceremony; the new how-to-be-a-prep handbook True Prep,with guest John Swansburg; and the songs of the summer of 2010.