The Culture Gabfest, "Truffle Fries" Edition
Listen to Slate's show about the week in culture.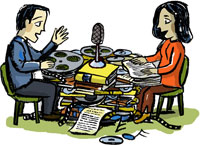 Listen to Culture Gabfest No. 89 with Stephen Metcalf, Dana Stevens and Julia Turner by clicking the arrow on the audio player below:
You can also download the program  here, or you can subscribe to the weekly Culture Gabfest podcast feed  via iTunes  or directly with our  RSS feed. Find the Culturefest Facebook page here. Leave us a note and see what other listeners have to say about the latest podcast.
Get your 14-day free trial from our sponsor Audible.com, which includes a credit for one free audiobook,  here. (Audiobooks of the week: Miss Lonelyhearts and The Day of the Locust, written by Nathanael West, narrated by L.J. Ganser and William Atherton.)
In this week's Culture Gabfest, our critics Stephen Metcalf, Dana Stevens, and Julia Turner discuss the pop star M.I.A.'s beef with Lynn Hirschberg andthe New York Times, the new documentary Exit Through the Gift Shop, and a Wired article that asks whether the Internet has uncivilized our brains.

Here are some links to the things we discussed this week:

Lynn Hirschberg's profile of the pop star M.I.A. in the New York Times Magazine.
M.I.A.'s video for "Born Free."
The rap song response to the NYT interview and audio excerpts from the interview on M.I.A.'s Web site.
The controversial Playboy interview with musician John Mayer.
A complete list of cities now showingExit Through the Gift Shop.
The trailer for Exit Through the Gift Shop.
The graffiti artist Banksy's Web site.
Nicholas Carr's article in Wired on what the Internet might be doing to your brain and Carr's blog.
The Culture Gabfest weekly endorsements:
Musical Outro: M.I.A.'s "Hombre"