The Culture Gabfest, "I Want To Touch the Machine" Edition
Listen to Slate's show about the week in culture.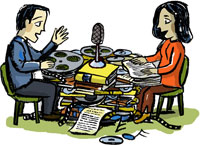 Listen to Culture Gabfest No. 81 with Stephen Metcalf, Dana Stevens, Seth Stevenson, and Julia Turner by clicking the arrow on the audio player below:
You can also download the program  here, or you can subscribe to the weekly Culture Gabfest podcast feed  via iTunes  or directly with our  RSS feed. Find the Culturefest Facebook page here. Leave us a note and see what other Culturefest listeners have to say about the latest podcast.
In this week's Culture Gabfest, our critics Stephen Metcalf, Dana Stevens, Seth Stevenson, and Julia Turner discuss Seth Stevenson's new travel book, Grounded; the Google tool that lets you buy TV ads; and Apple's much-hyped iPad.
Here are some links to the things we discussed this week:

Seth Stevenson's new book Grounded: A Down to Earth Journey Around the World.
The Slate V ad that ran on national television with a little help from Google.
Seth Stevenson's pieces on the mesmerizing ads for HeadOn and Overstock.com in Slate.
Slate'sFarhad Manjoo on whether the iPad is necessary.
Choire Sicha's takedown of the device in the Awl.
The New York Times writer David Carr defends the iPad to New Yorkmagazine.
Ad Age's article on the advertiser preference for apps over mobile Web sites.

The Culture Gabfest weekly endorsements:
TODAY IN SLATE
Politics
Smash and Grab
Will competitive Senate contests in Kansas and South Dakota lead to more late-breaking races in future elections?