The Culture Gabfest, "Busby Berkeley Dreams" Edition
Listen to Slate's show about the week in culture.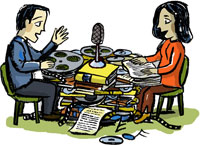 Listen to Culture Gabfest No. 77 with Stephen Metcalf, Dana Stevens and Julia Turner by clicking the arrow on the audio player below:
You can also download the program  here, or you can subscribe to the weekly Culture Gabfest podcast feed  via iTunes  or directly with our  RSS feed.
Get your 14-day free trial from our sponsor Audible.com, which includes a credit for one free audiobook,  here. (Audiobook of the week: The Wind-Up Bird Chronicle, written Haruki Murakami and narrated by Rupert Degas.)You'll find links to this and previous Culturefest recommendations on our Audible RSS feed.
Find the Culturefest Facebook page  here. Leave us a note and see what other Culturefest listeners have to say about the latest podcast. And please help us with the  Slate Podcast Pledge Drive—and give yourself a shot to win free movie tickets and a chance to endorse something you love on our show—by sending your Culturefest "conversion story" to  culturefest@slate.com.
In this week's Culture Gabfest, our critics Stephen Metcalf, Dana Stevens, and Julia Turner discuss the 82nd Academy Awards, the terrible signs at New York's Penn Station and Julia Turner's signs series on Slate, and whether the National Enquirer should be in the running for a Pulitzer Prize.
Here are some links to the things we discussed this week:
The Culture Gabfest weekly endorsements:
Posted on March 10 by Jesse Baker at 1:07 p.m.