The Culture Gabfest, "Meet the Crotchman" Edition
Listen to Slate's show about the week in culture.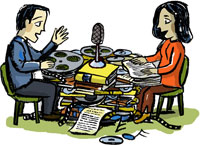 Listen to Culture Gabfest No. 75 with Stephen Metcalf, Dana Stevens and Julia Turnerby clicking the arrow on the audio player below:
You can also download the program here, or you can subscribe to the weekly Culture Gabfest podcast feed via iTunesor directly with our RSS feed.
Get your 14-day free trial from our sponsor Audible.com, which includes a credit for one free audiobook, here. (Audiobook of the week:The Ricky Gervais Showpodcast by Ricky Gervias, Stephen Merchant, andKarl Pilkington.)
Find the Culturefest Facebook page here. Leave us a note and see what other Culturefest listeners have to say about the latest podcast.And please help us with the Slate Podcast Pledge Drive—and give yourself a shot to win free movie tickets and a chance to endorse something you love on our show—by sending your Culturefest "conversion story" to culturefest@slate.com.
In this week's Culture Gabfest, our critics Stephen Metcalf, Dana Stevens, and Julia Turner discuss an Esquire profile of film critic Roger Ebert, the new animated HBOincarnation of The Ricky Gervias Show,and ChatRoulette, the international chat room that pairs you and your webcam with a total stranger.
Here are some links to the things we discussed this week:
The Culture Gabfest weekly endorsements: