The Culture Gabfest, "Meet the Crotchman" Edition
Listen to Slate's show about the week in culture.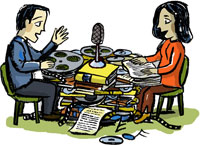 The Culture Gabfest weekly endorsements:
Meghan's pick: A Grief Observed by C.S. Lewis.
Troy's pick:  Fleetwood Mac performing "Tusk" with the USC marching band.
Stephen's pick: Thomas Hardy's series of love poems written after the loss of his wife, Emma.
Posted on Feb. 3 by Jesse Baker at 11:15 a.m.