The Culture Gabfest, "Meet the Crotchman" Edition
Listen to Slate's show about the week in culture.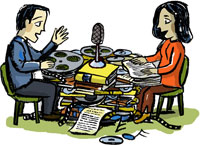 Posted on Feb. 24 by Jesse Baker at 10:55 a.m.
Listen to Culture Gabfest No. 74 with Stephen Metcalf, Jody Rosen, Dana Stevens and Julia Turnerby clicking the arrow on the audio player below:
You can also download the program here, or you can subscribe to the weekly Culture Gabfest podcast feed via iTunes or directly with our RSS feed.
Get your 14-day free trial from our sponsor Audible.com, which includes a credit for one free audiobook, here. (Audiobook of the week: The Painted Veil, written byW. Somerset Maugham and read by Kate Reading.)
Find the Culturefest Facebook page here. Leave us a note and see what other Culturefest listeners have to say about the latest podcast. Please help us with the Slate Podcast Pledge Drive—and give yourself a shot to win free movie tickets and a chance to endorse something you love on our show—by sending your Culturefest "conversion story" to culturefest@slate.com.
In this week's Culture Gabfest, our critics Stephen Metcalf, Jody Rosen, Dana Stevens, and Julia Turner discuss "We Are the World 25 for Haiti," singer-songwriter John Mayer's disturbingly frank interview in next month's Playboy, and the start of the 2010 Winter Games.
Here are some links to things discussed on this week's show: