The Culture Gabfest, "Puny Ingratiation" Edition
Listen to Slate's show about the week in culture.
Updated Wednesday, Dec. 30, 2009, at 11:57 AM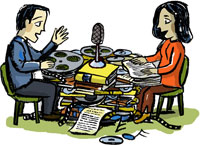 Here are links to some of the articles and other items mentioned in the show:
The Culture Gabfest weekly endorsements:
Posted on Dec. 2 by Samantha Henig at 11:30 a.m.
MYSLATE
June Thomas is a Slate culture critic. Follow her on Twitter.

Stephen Metcalf is Slate's critic at large. He is working on a book about the 1980s.
Dana Stevens is Slate's movie critic. Email her at slatemovies@gmail.com or follow her on Twitter.
Illustration by Robert Neubecker.