The Culture Gabfest, the Springtime for Tarantino Edition
Listen to Slate's show about the week in culture.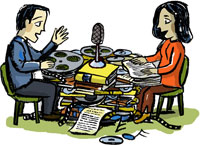 In this week's Culture Gabfest, our critics discuss Meryl Streep's new movie about Julia Child, Julie & Julia; Amazon's beloved, vexing Kindle e-reader; and Josh Levin's new series on Slate about the end of America.
Here are links to some of the articles and other items mentioned in the show:
The Culture Gabfest weekly endorsements:
Posted on Aug. 5 by Jacob Ganz at 12:00 a.m.