The Culture Gabfest, the Springtime for Tarantino Edition
Listen to Slate's show about the week in culture.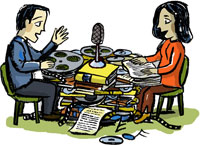 The Culture Gabfest weekly endorsements:
Stephen's picks: Robert Frost's poem "The Sound of Trees" and the Pizza on Earth restaurant in Charlotte, Vt.
Dana's pick: Dream Academy's cover of the Smiths' "Please Please Please Let Me Get What I Want" (from Ferris Bueller's Day Off).
John's pick: the forthcoming Criterion Collection DVD of Whit Stillman's The Last Days of Disco.
June's picks: vacationing in Canada in order to watch Canadian television or, barring that, tuning in to Lifetime's series Drop Dead Diva.
Posted on Aug. 12 by Jacob Ganz at 10:35 a.m.
Listen to Culture Gabfest No. 46 with Dana Stevens, June Thomas, and Julia Turner by clicking the arrow on the audio player below:
You can also download the program here, or you can subscribe to the weekly Culture Gabfest podcast feed in iTunes by clicking here.
Get your 14-day free trial from our sponsor Audible.com, which includes a credit for one free audio book, here. (Audiobook of the week: the complete and varied Meryl Streep on Audible.)
Find the Culturefest Facebook page here. Leave us a note and see what other Culturefest listeners have to say about the latest podcast.