The Culture Gabfest, the Springtime for Tarantino Edition
Listen to Slate's show about the week in culture.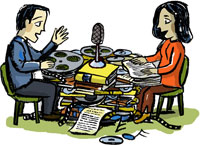 Posted on Aug. 19 by Jacob Ganz at 1:17 p.m.
Listen to Culture Gabfest No. 47 with Stephen Metcalf, Dana Stevens, John Swansburg, and June Thomas by clicking the arrow on the audio player below:
You can also download the program here, or you can subscribe to the weekly Culture Gabfest podcast feed in iTunes by clicking here.
Get your 14-day free trial from our sponsor Audible.com, which includes a credit for one free audiobook, here. (Audiobook of the week: S.E. Hinton's The Outsiders, read by Jim Fyfe.)
Find the Culturefest Facebook page here. Leave us a note, submit your sketch of Stephen, and see what other Culturefest listeners have to say about the latest podcast.
In this week's Culture Gabfest, our critics discuss the films of 1980s auteur John Hughes, the state of the ever more expensive rock concert, and the rise of cultural tourism.
Here are links to some of the articles and other items mentioned in the show:
Dana Stevens looks back at the career of John Hughes in Slate.
A.O. Scott's appraisal of Hughes' movies in the New York Times.
Cameron Frye admires Georges Seurat's A Sunday on La Grande in Ferris Bueller's Day Off.
Ron Rosenbaum gets Jack Nicholson's thoughts on Ferris Bueller in a 1986 interview for the New York Times Magazine (subscription required).
John Seabrook's New Yorker article on how Ticketmaster, Live Nation, and ticket scalpers have changed the concertgoing experience (registration required).
Cecilia Kang's article in the Washington Post on the latest developments in the proposed merger between Live Nation and Ticketmaster.
June Thomas' piece for Slate on her visit to the Wigan Pier Experience.
A selection of cultural vacation spots visited by the culturefesters: