The Culture Gabfest, the Springtime for Tarantino Edition
Listen to Slate's show about the week in culture.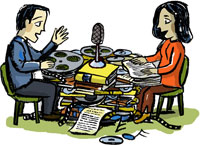 Posted on Aug. 26. by Jacob Ganz at 11:45 a.m.
You can also download the program here, or you can subscribe to the weekly Culture Gabfest podcast feed in iTunes by clicking here.
Get your 14-day free trial from our sponsor Audible.com, which includes a credit for one free audiobook, here. (Audiobook of the week: Heat, written by Bill Buford and read by Michael Kramer.)
Find the Culturefest Facebook page here. Leave us a note and see what other Culturefest listeners have to say about the latest podcast.
In this week's Culture Gabfest, our critics discuss Ponyo, the new film by Hayao Miyazaki, Japan's master animator; the to-do about Whole Foods CEO John Mackey's opinions on health care reform; and the guitar documentary It Might Get Loud.
Here are links to some of the articles and other items mentioned in the show:
The official Web site for Ponyo.
Dana Stevens' review of Ponyo in Slate.
Just about everybody loves Miyazaki; Rotten Tomatoes says so.
Michael Cieply's article in the New York Times on a rare visit by Miyazaki to the United States.
Eric Etheridge's post on the John Mackey/Whole Foods/health care reform blowup on the New York Times' Opinionator blog.
Daniel Shorn's profile of Mackey on 60 Minutes.
AP coverage of Mackey's anonymous postings on a financial forum in 2007.
The official Web site for It Might Get Loud.
Jody Rosen's post in memory of Les Paul on Slate's "Brow Beat" blog.
The Culture Gabfest weekly endorsements: