The Culture Gabfest, the Springtime for Tarantino Edition
Listen to Slate's show about the week in culture.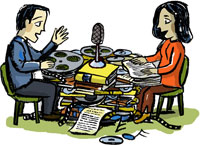 Listen to Culture Gabfest No. 49 with Stephen Metcalf, Ron Rosenbaum, Dana Stevens, and Julia Turner by clicking the arrow on the audio player below: 
You can also download the program here, or you can subscribe to the weekly Culture Gabfest podcast feed in iTunes by clicking here.
Get your 14-day free trial from our sponsor Audible.com, which includes a credit for one free audio book, here. (Audiobook of the week: Explaining Hitler, written by Ron Rosenbaum and read by Barrett Whitener.)
Find the Culturefest Facebook page here. Leave us a note and see what other Culturefest listeners have to say about the latest podcast.
In this week's Culture Gabfest, our critics discuss Quentin Tarantino's new WWII fantasy, Inglourious Basterds, with special guest Ron Rosenbaum; the new, long-delayed season of the fashion design reality series Project Runway; and the winning sketches  of Steve.
Here are links to some of the articles and other items mentioned in the show:
The official Web site for Inglourious Basterds.
Dana Stevens' review of Inglourious Basterds in Slate.
Ron Rosenbaum's piece on Tarantino, The Sopranos, and violence in Slate.
Ron Rosenbaum and Dana Stevens on last year's Holocaust-themed Oscar bait, The Reader, in Slate.
Isaac Chotiner and readers discuss the merits and faults of Tarantino at the New Republic's blog the Plank.
The official Web site for Project Runway on Lifetime (where you can watch the first episode of the new season).
Dana Stevens' review of the first season of Project Runway in Slate.
Troy Patterson's review of the new season of Project Runway in Slate.
All of the entries in our "Sketch Steve" contest.
The winners of the "Sketch Steve" contest.