The Culture Gabfest, the Boo-Effing-Hoo Edition
Listen to Slate's show about the week in culture.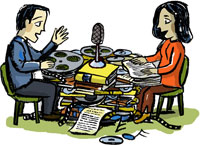 Listen to Culture Gabfest No. 36 with Stephen Metcalf, Jody Rosen, and Dana Stevens by clicking the arrow on the audio player below:
Get your 14-day free trial from our sponsor Audible.com, which includes a credit for one free audiobook, here. (Audiobook of the week: Epitaph for a Spy by Eric Ambler.)
Find the Culturefest Facebook page here. Leave us a note and see what other Culturefest listeners have to say about the latest podcast.
In this week's Culture Gabfest, our critics discuss the return of rapper Eminem, whether working with your hands is a new obsession for cultural elites, and the forthcoming memoir by former Kennedy intern/lover Mimi Beardsley Alford.
Here are links to some of the articles and other items mentioned in the show:
Eminem's MySpace page, with songs and videos from his new album, Relapse.
Ann Powers' review of Relapse in the Los Angeles Times.
Robert Christgau defends Eminem's morality in a review of Relapse for NPR.
Jody Rosen's 2005 essay on Eminem's decline in The Nation.
Christgau's "The Slim Shady Essay" in the Believer.
Jodie Foster's cover of Eminem's "Lose Yourself" during a University of Pennsylvania commencement address.
Michael Agger's review of Shop Class as Soul Craft by Matthew B. Crawford in Slate.
Matthew B. Crawford's piece in the New York Times Magazine about running a motorcycle repair shop.
Motoko Rich's article in the New York Times about Mimi Beardsley Alford's book deal.
Jim Rutenberg and Motoko Rich's article about Dick Cheney's search for a book deal in the New York Times.
The Culture Gabfest weekly endorsements: