The Culture Gabfest, "Oh My God, Ugly People Can Sing" Edition
Listen to Slate's show about the week in culture.
Updated Wednesday, April 22, 2009, at 12:02 PM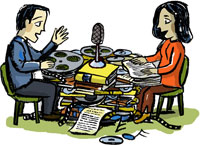 Listen to Culture Gabfest No. 32 with Stephen Metcalf, Dana Stevens, and Julia Turner by clicking the arrow on the audio player below:  
You can also download the program here, or you can subscribe to the biweekly Culture Gabfest podcast feed in iTunes by clicking here. 
Get your 14-day free trial from our sponsor Audible.com, which includes a credit for one free audio book, here. (Audiobooks of the week: Zora Neale Hurston's Their Eyes Were Watching God, read by Ruby Dee, and Julie Andrews' Home: A Memoir of My Early Years, read by the author.) 
Find the Culturefest Facebook page here. Leave us a note and see what other Culturefest listeners have to say about the latest podcast.
In this week's Culture Gabfest, our critics discuss their adventures in the world of Twitter, the new HBO feature adaptation of the documentary Grey Gardens, and the surprising Web obsession with the gifted but plain singer Susan Boyle.
Here are links to some of the articles and other items mentioned in the show:
Stephen's Twitter feed.
Dana's Twitter feed.
Julia's Twitter feed.
Oprah Winfrey tweets and interviews new-media titan Ashton Kutcher.
Virginia Heffernan's article on the poverty of connectivity in the New York Times Magazine.
Carolyn Kellogg looks at the "Amazon fail" scandal on Jacket Copy, the Los Angeles Times book blog.
The originalGrey Gardens at Criterion.com.
HBO's Web site for the new Grey Gardens.
Drew Barrymore talks about mother-daughter relationships—Barrymore and Beale—on Fresh Air.
Susan Boyle's astonishing performance of "I Dreamed a Dream" on Britain's Got Talent.
Boyle's 1999 performance of "Cry Me a River."
Sarah Lyall's article in the New York Times on Boyle's YouTube popularity.
The Culture Gabfest weekly endorsements:
You can e-mail us at culturefest@slate.com.
MYSLATE