The Culture Gabfest, "Valkyrie Gave Me Pinkeye" Edition
Listen to Slate's show about the week in culture.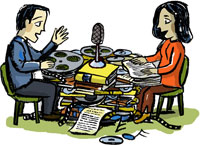 You can also download the program here, or you can subscribe to the Culture Gabfest podcast feed in iTunes by clicking here.
In this week's Culture Gabfest, our critics discuss Milk, Beyoncé, and Black Friday.
Here are links to some of the articles and other items mentioned in the show:
The Culture Gabfest weekly endorsements:
Posted on Dec. 3 by Amanda Aronczyk at 1:15 p.m.