Amicus: The Storm Before the Storm
With just over a week left in its term, the Supreme Court is beginning to rain down decisions.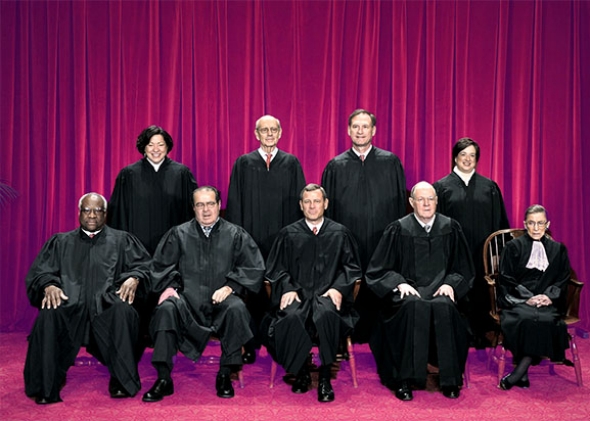 Listen to Episode 21 of Slate's Amicus:
On this week's episode, Dahlia is joined by fellow Supreme Court watcher Garrett Epps of the Atlantic. Together, they peel back the layers of last week's slew of decisions from the court, including Kerry v. Din; Walker v. Texas Division, Sons of Confederate Veterans Inc.; Reed v. Town of Gilbert; Brumfield v. Cain; and Davis v. Ayala.* Taken together, the concurring and dissenting opinions in these cases reveal some surprising things about where the justices stand on the issues on the eve of the term's two biggest decisions.
Please let us know what you think of our legal affairs podcast. Our email is amicus@slate.com.
Transcripts of Amicus are available to Slate Plus members. Consider signing up today! Members get bonus segments, exclusive member-only podcasts, and more. Sign up for a free trial today here. (Note: After a new episode is posted, its transcript may take several days to appear on our show page.)
Amicus is sponsored by the Great Courses, offering engaging audio video lectures like "The Great Debate: Advocates and Opponents of the American Constitution." Get up to 80 percent off the original price when you visit thegreatcourses.com/amicus.
We're also sponsored by FreshBooks, the super-simple invoicing solution made to help lawyers, consultants, and freelancers get organized, save time, and get paid faster. For your free 30-day trial, go to FreshBooks.com/Amicus.
This week's excerpts from the Supreme Court's public sessions were provided by Oyez, a free law project at the Chicago-Kent College of Law, part of the Illinois Institute of Technology.
Podcast production by Tony Field.
*Correction, June 22, 2015: Due to a production error, this post originally misstated when the court decided the cases discussed in the episode. It was the week of June 15, not the week of June 22.