Amicus: A Certain Justice
In the courtroom Justice Clarence Thomas has been as silent as ever this term. But on paper he has been anything but.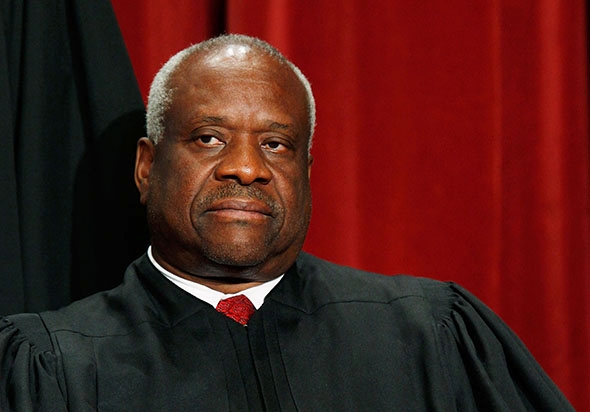 Listen to Episode 20 of Slate's Amicus:
In the past couple of weeks, the famously silent Supreme Court justice Clarence Thomas has been especially vociferous on paper. But in the strong stances he has taken, Thomas has not had much company. On this week's episode, Dahlia is joined by Carrie Severino to consider the role Thomas has played on the Roberts court. Severino is chief counsel and policy director for the Judicial Crisis Network, and a former clerk to Thomas.
In the second half of the podcast, Dahlia turns to a major election law case scheduled for next term's Supreme Court docket. The case involves a challenge to the bedrock principle of "one person, one vote." Dahlia is joined by historian Douglas Smith for an in-depth look at that principle, its origins, and what it would mean should it be overturned.
Please let us know what you think of our legal affairs podcast. Our email is amicus@slate.com.
Want a transcript of this week's episode? They're all available to members of Slate Plus. Consider signing up today—members get bonus segments, exclusive member-only podcasts, and more. Sign up for a free trial today here.
Our sponsor this week is The Great Courses, offering audio video lectures like "The First Amendment and You: What Everyone Should Know." Get up to get up to 80 percent off the original price when you visit thegreatcourses.com/amicus.
We're also sponsored by FreshBooks. For your free 30-day trial, go to FreshBooks.com/Amicus, and use the promo code Amicus.
This week's excerpts from the Supreme Court's public sessions were provided by Oyez, a free law project at the Chicago-Kent College of Law, part of the Illinois Institute of Technology.
Podcast production by Tony Field.