The Fringe, Part 2
Presidential candidates you've never heard of.

As it turns out, the Journal's hedcuts tell a fascinating story about Bush's fortunes over the past couple of years. (This site lets you look up old drawings and their publication dates.) In April 2006, he was still sunny and confident. In January 2007, as the surge began, his face showed doubt and concern. Now the man is downright gloomy.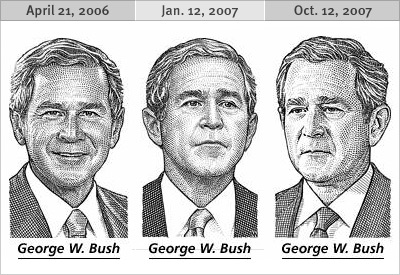 So, is this story arc intentional? An e-mail sent to WSJ's press office this afternoon hasn't been returned. But Kevin Sprouls, the artist who pioneered the stipple portrait style for the Journal 20 years ago, said he doubts it. Back when he worked on the art desk, "we'd try not to editorialize," he said. "We'd go with the image that was the best likeness."
Today's drawing accompanies an interview with Bush about free trade and executive pay. Maybe they picked the glum face because voter support for free-trade initiatives is down? "There's no way to find out," Sprouls said. "I'm sure even if they were editorializing, they would deny it."
Gee-had: Romney has a new ad in his series of backyard heart-to-hearts, this time telling us about jihadism—"This century's nightmare." He sound serious, but I still feel like I'm learning about the birds, the bees, and the coming of the 12th Imam.
As far as strategy, Romney is doing his best to unseat Giuliani as the national security candidate. Talking about the terrorists' plans to "unite the world under a single jihadist caliphate" might help. (Notice that he doesn't mention a "global war on terror"—a good way to distance himself from Bush.) But no matter how many soldiers Romney pledges to add to the military, no matter how hawkish he waxes on Iran, he still doesn't have a good rebuttal if Giuliani decides to ask him, "Where were you on Sept. 11?"
Correction, Oct. 18, 2007: An earlier version of this post misstated that Dr. Shepard was convicted for selling narcotics. A judge ruled that he had violated his parole and convicted him of illegally possessing narcotics. (Return to the corrected sentence.)