Mitt Romney's Puerto Rico Fever
Why Mitt Romney is courting Latino votes that don't count.

Mitt Romney's Puerto Rico Fever: Mitt Romney is going offshore to help distance himself from the GOP's struggles with Latino voters. Romney sent out a press release Wednesday announcing the formation of a Puerto Rico steering committee. Candidates put steering committees together all the time, especially in states that they feel will have a big impact in the presidential race. But Puerto Rico isn't a state. Its citizens can't even vote in the general presidential election. (The island does hold the third-to-last Republican primary on May 31, 2008, and sends a small number of delegates to the Republican National Convention.) It's safe to say Isle of Enchantment voters aren't going to be the kingpins of '08.
But Romney doesn't need Puerto Ricans to vote for him—he needs Puerto Rican-Americans to rally behind him and spread the word. Romney's press office isn't shy about the move. The spokesperson I talked to paid lip service to courting votes in Puerto Rico but intimated that the steering committee's true goal was to shore up support on the mainland, specifically in Florida (13.3 percent of residents are Hispanic). Romney probably wouldn't mind if Puerto Ricans voted for him, but he's going to the island in order to build buzz among émigrés in the contiguous 48.
And what about the rest of America's territorial buddies? Dennis Kucinich has already gone to Hawaii to campaign. Why not stop in the Virgin Islands next? John McCain is probably the most likely to form an Iraqi steering committee to court the meager number of Iraqi refugees living in America. (Clarification, Sept. 24, 2007: We meant to imply Hawaii was an island state, not a territory.  Because Kucinich has already left the mainland to campaign, the implication was that the Virgin Islands are not out of reach.)
Maybe Romney isn't a trendsetter after all.
Posted by Chadwick Matlin,Sept. 21, 4:58 p.m. ET (link)
__________________________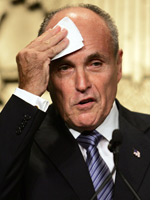 Shot in the Dark:"It's nice to be here in England," Rudy Giuliani joked as he took the stage at the National Rifle Association's "Celebration of American Values" forum. The crack got a laugh, but it was an odd thing for someone with a history of supporting gun control to say to an audience of gun lovers. England is the last place you want them to be thinking about.
Thus began the former mayor's half-hour attempt to fudge, massage, and generally play down his record of restricting gun ownership in New York City. Instead, he painted himself as Giuliani the crime-fighter. His goal as president, he said, would be "putting criminals behind bars when they commit crimes with guns or any other way." Which, of course, wouldn't affect anyone in the room.
He kept emphasizing that he would merely enforce laws already on the books. That means keeping the current laws on waiting periods and gun shows, while letting state and local law enforcement work out the details for themselves. One thing he didn't mention, however, was the Assault Weapons Ban of 1995, which he vigorously supported at the time. The NRA was polite enough not to ask about it during the Q&A.