Play the Slate News Quiz
With Jeopardy! superchampion Ken Jennings.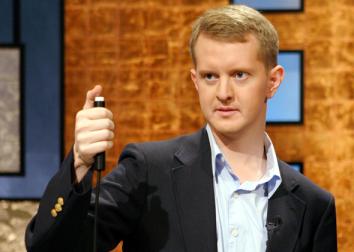 Welcome back to Slate's weekly news quiz. I'm your host, 74-time Jeopardy! winner Ken Jennings.
Every Friday I'll be testing your knowledge with 12 challenging questions on the week's news events, big and small, including happenings in science, sports, politics, and culture both high and low. The questions are multiple-choice, and time is of the essence: You have 30 seconds to answer, and as the seconds tick away, the question's point value drops from 50 all the way down to zero, so you'll want to click on your answer as fast as you possibly can. There's no penalty for an incorrect answer, so feel free to take a guess if your puny human brain fails you.
At the end of the quiz, you'll be able to compare your score with that of the average contestant, as well as with the score of a Slate-ster whom I've talked into taking the quiz on the record. This week's contestant is Joshua Keating, who writes the World blog.
Think you can ace my quiz and beat Keating? Good luck!

The Slate Quiz with quizmaster Ken Jennings


Over the weekend in Lugo, Italy, police arrested a hospital nurse named Daniela Poggiali, who is suspected in the deaths of up to 38 patients that she found "annoying." I understand that no one likes to be annoyed, but if you ever find the Slate News Quiz to be annoying, I hope we can settle our differences more peacefully.
Question 1
of 12
"A nuclear settlement is certain," promised which world leader on Monday?
Only details remain to be ironed out on the deal, according to Rouhani, who said that "the world is tired and wants (the talks) to end."
Question 2
of 12
What timely Web domain is URL speculator Jon Schultz looking to sell for $150,000?
Schultz bought the domain in 2008 for $13,500 as part of his portfolio of disaster-related URLs. He says the asking price will remain high unless—God forbid—we cure Ebola.
Question 3
of 12
In recent weeks, police in Bakersfield, California, have fielded 20 reports of citizens being terrorized by what?
Some of the clowns are holding machetes or baseball bats, something that no one ever has terrible nightmares about. "We will make arrests on this," vow police.
Question 4
of 12
A 6-3 Supreme Court decision allowed 13 of what places to reopen in Texas?
The health centers had stopped performing abortions on Oct. 2 when an appeals court ruled that Texas could enforce its new abortion restrictions while courts considered them.
Question 5
of 12
Though top military officials dissed the name as "kind of bleh," what name did the Pentagon announce for its campaign against ISIS this week?
One member of the armed forces anonymously suggested "Operation Shiite Storm."
Question 6
of 12
After last week's awarding of the Nobel Peace Prize, five of the last 12 winners now have what in common?
Co-winner Malala Yousafzai joins human rights activists Shirin Ebadi and Tawakkul Karman, IAEA head Mohamed ElBaradei, and economist Muhammad Yunus.
Question 7
of 12
What Barcelona business used facial recognition software to unveil a groundbreaking new business model this week?
Attendance is up 35 percent now that audiences know that they'll pay nothing for an unfunny set.
Question 8
of 12
The British House of Commons voted 274-12 this week to officially recognize what?
The nonbinding vote was a symbolic move intended to kickstart the peace process and pressure Israel toward a two-state solution.
Question 9
of 12
Which company will be opening its first brick-and-mortar store this holiday season on 34th Street in Midtown Manhattan, directly across from the Empire State Building?
Question 10
of 12
Archaeologists confirmed this week that a mound in Vergina called the Great Tumulus holds the bones of which man's famous father?
The tomb in northern Greece is now known to belong to Philip II, ancient king of Macedon.
Question 11
of 12
The city of Chicago has earned almost $8 million in revenue this year by shortening what?
The city instructed its vendor to issue tickets even when the yellow light duration slipped a tenth of a second below the city's three-second standard. An additional 77,000 tickets were issued.
Question 12
of 12
In a Vine video that went viral, Michelle Obama promoted healthy eating with what take on a hit song?
In what is surely a first in American history, the first lady is seen dancing with a turnip.

October 17, 2014


Anonymous User
Log in to track your scores!
vs.

Joshua Keating
Foreign Affairs Blogger
Iranian President Hassan Rouhani
Russian President Vladimir Putin
North Korean dictator Kim Jong-un
Pakistani Prime Minister Nawaz Sharif
Voter registration centers
Operation Secured Freedom
Operation Regional Stability
Operation Inherent Resolve
They are political prisoners
A bank with cardless ATMs
A gay bar that charges attractive patrons less
A coffee shop that makes your usual as soon as you enter
A comedy club that charges per laugh
Scottish "fiscal autonomy"
English as a national language
Its official email footer

Average
0 points

You
0 points


Joshua Keating
Foreign Affairs Blogger
0 points
Answer quickly to earn more points!
Quiz Template by Chris Kirk and Andrew Morgan