Play the Slate News Quiz
With Jeopardy! superchampion Ken Jennings.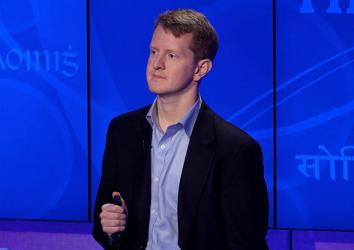 Welcome back to Slate's weekly news quiz. I'm your host, 74-time Jeopardy! winner Ken Jennings.
Every Friday I'll be testing your knowledge with 12 challenging questions on the week's news events, big and small, including happenings in science, sports, politics, and culture both high and low. The questions are multiple-choice, and time is of the essence: You have 30 seconds to answer, and as the seconds tick away, the question's point value drops from 50 all the way down to zero, so you'll want to click on your answer as fast as you possibly can. There's no penalty for an incorrect answer, so feel free to take a guess if your puny human brain fails you.
At the end of the quiz, you'll be able to compare your score with that of the average contestant, as well as to the score of a Slate-ster whom I've talked into taking the quiz on the record. This week's contestant is Slate staff writer Amanda Hess Think you can ace my quiz and beat Hess? Good luck!

The Slate Quiz with quizmaster Ken Jennings


This week in Thousand Oaks, California, a 30-year-old woman was removed, sooty but unharmed, from the chimney of a man she'd met online and dated a few times. The chimney stalker was found when neighbors heard her cries for help. If you're an obsessive fan of the Slate News Quiz, I hope you enjoy this week's installment. But please stay off my roof.
Question 1
of 12
Over the weekend, the Supreme Court agreed to stay an injunction, effectively reinstating Texas' strict new law on what issue?
Question 2
of 12
Last Friday, a cease-fire was announced in Chad that included an agreement to end which crisis?
The situation on the ground seems to have changed little in the days since the cease-fire between Nigeria and Boko Haram.
Question 3
of 12
What is 30 percent lower in vegetarians, according to a new study from Loma Linda University's medical school?
Sperm motility is also significantly lower. This could be a result of vitamin deficiencies or estrogen-like compounds in soy.
Question 4
of 12
The shooting on Ottawa's Parliament Hill on Wednesday was ended by a man better known for carrying what unusual weapon?
Eyewitnesses said the gunman was brought down by Sergeant-at-Arms Kevin Vickers, best known for the ceremonial mace he carries to open every session of Parliament.
Question 5
of 12
For the duration of the World Series, two San Francisco radio stations are refusing to play what artist's biggest hit single?
"Royals" will not be heard during the series, vow KFOG and KOIT. "We're all about the Giants here," said one program director.
Question 6
of 12
Ron Klain, former chief of staff to Vice Presidents Al Gore and Joe Biden, started his new job this week, overseeing the U.S. response to what?
Klain was named the administration's new "Ebola czar" despite his lack of public health experience.
Question 7
of 12
The Swedish navy spent the week hunting for what suspected visitor to their waters?
Sweden intercepted a mysterious Russian distress call from its Baltic coast last week and says it's ready to defend its borders with force if necessary.
Question 8
of 12
On Monday, Florida's Michael Dunn received a life sentence for the murder of 17-year-old Jordan Davis, in a trial often referred to by what nickname?
"I hate that thug music," prosecutors allege Dunn told his fiancee, shortly before firing repeatedly into an SUV full of black teenagers.
Question 9
of 12
What kind of animal was Suni, who died last week in Kenya, leaving only six of his kind left alive in the world?
Suni was one of two breeding males left in captivity. There are no northern white rhinos left in the wild, mostly due to poaching.
Question 10
of 12
Which state is on pace for the first ever $100 million Senate race, as money from out-of-state donors floods in for opponents Kay Hagan and Thom Tillis?
Question 11
of 12
What surprising group of people has been receiving millions of dollars in Social Security benefits over the decades, thanks to a legal loophole?
Even after leaving the country, at least 38 suspected Nazis were allowed to keep their benefits, says the Associated Press. Congress plans to close the loophole.
Question 12
of 12
What kind of family business in Saginaw, Michigan, has begun offering its services from a drive-thru window?
The Paradise Funeral Chapel has guests press a button and pull up to the second window, where a curtain pulls back, allowing them a three-minute viewing with the departed.

October 24, 2014


Anonymous User
Log in to track your scores!
vs.

The schoolgirl abduction in Nigeria
The civil war in South Sudan
The Ebola quarantine in Sierra Leone
The violence in the Central African Republic
Pepper spray disguised as a camera
A western lowland gorilla
Gen-Xers born on Leap Day
Unsuccessful presidential assassins

Average
0 points

You
0 points


Amanda Hess
Staff Writer
0 points
Answer quickly to earn more points!
Quiz Template by Chris Kirk and Andrew Morgan