Play the Slate News Quiz
With Jeopardy! superchampion Ken Jennings.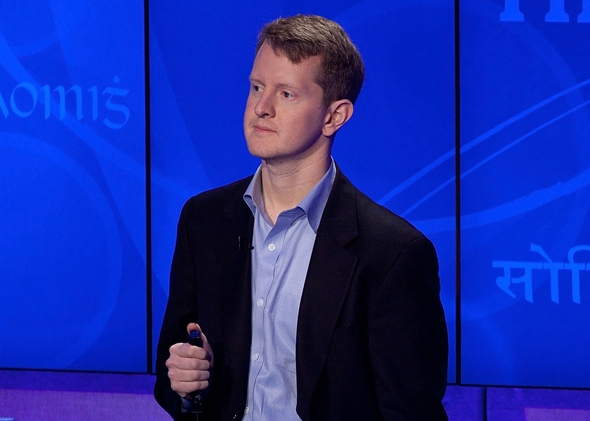 Welcome back to Slate's weekly news quiz. I'm your host, 74-time Jeopardy! winner Ken Jennings.
Every Friday I'll be testing your knowledge with 12 challenging questions on the week's news events, big and small, including happenings in science, sports, politics, and culture both high and low. The questions are multiple-choice, and time is of the essence: You have 30 seconds to answer, and as the seconds tick away, the question's point value drops from 50 all the way down to zero, so you'll want to click on your answer as fast as you possibly can. There's no penalty for an incorrect answer, so feel free to take a guess if your puny human brain fails you.
At the end of the quiz, you'll be able to compare your score with that of the average contestant, as well as with the score of a Slate-ster whom I've talked into taking the quiz on the record. This week's contestant is Slate's movie critic, Dana Stevens. (When you're done with the quiz, read her take on this week's big release, Gone Girl.)
Think you can ace my quiz and beat Dana Stevens? Good luck!

The Slate Quiz with quizmaster Ken Jennings


It was a rough week for the nostalgic among us. Yahoo announced it would be shutting down Yahoo Directory, once the ubiquitous center of Internet search, at the end of the year. And over the weekend, Saturday morning cartoons aired on American network television for perhaps the last time ever. In a changing world, at least you can always count on the Slate News Quiz.
Question 1
of 12
On Tuesday, Texas Health Presbyterian Hospital in Dallas was the site of the first what in American history?
Liberian national Thomas Eric Duncan first came to the hospital for treatment last Friday, but was prescribed antibiotics and released.
Question 2
of 12
What has been breached six times so far this year, according to this week's congressional hearings?
Secret Service Director Julia Pierson resigned Wednesday as a result of the security snafus.
Question 3
of 12
A group of scientists at the University of Rochester unveiled a new invention, a real-life version of what Harry Potter plot device?
The scientists say that their arrangement of four lenses is the first 3-D, multidirectional cloaking system, and it can be duplicated at home for less than $100. Even by Muggles.
Question 4
of 12
What has Hillary Clinton referred to as her "most exciting title yet"?
Last Friday in New York City, Chelsea Clinton gave birth to Charlotte Clinton Mezvinsky, Bill and Hillary Clinton's first grandchild.
Question 5
of 12
Jimmy Kimmel has been named 2014's most dangerous celebrity in what arena?
If you Google Kimmel's name, you have a whopping 19 percent chance of landing on a page carrying viruses or other malware.
Question 6
of 12
Tom Perez, whose name was mentioned this week on the short list to replace Eric Holder as attorney general, has been serving in President Obama's Cabinet in which position?
Also reportedly on the list: Solicitor General Don Verrilli and former White House counsel Kathy Ruemmler.
Question 7
of 12
What city's protesters this week were so well-organized that they've arranged for litter cleanup, recycling campaigns, deodorant giveaways, and apology signs?
Police have fired tear gas and pepper spray at the student-led pro-democracy demonstrations.
Question 8
of 12
With a new law passed Monday, California became the first state to define a strict new standard for what?
The "yes means yes" law requires colleges to back a policy of affirmative consent or else lose government aid.
Question 9
of 12
On 60 Minutes this week, President Obama admitted that America had "underestimated" what?
Question 10
of 12
Researchers at the Swiss Federal Institute of Technology in Zurich last week revealed what newly discovered threat to cows?
The bells can be as loud as a jackhammer, the study found, and sometimes lead to deafness and eating disorders.
Question 11
of 12
In an interview this week, SpaceX founder Elon Musk revealed his plan to put what on Mars?
Musk sees planetary colonization as necessary to "maintain the light of consciousness" should something happen to Earth.
Question 12
of 12
In a ceremony last weekend, who celebrated the end of a career in which he got to first base 4,717 times and scored 1,923 times?
I'm really sorry about this joke.

October 3, 2014


Anonymous User
Log in to track your scores!
vs.

Dana Stevens
Movie critic
Human stem cell implantation
U.S. credit card databases
"UNICEF Women's Rights Ambassador"
Secretary of homeland security
Secretary of the interior
An oxygen/nitrogen atmosphere
A rare-metal mining facility

Average
0 points

You
0 points


Dana Stevens
Movie critic
0 points
Answer quickly to earn more points!
Quiz Template by Chris Kirk and Andrew Morgan
Correction, Oct. 3, 2014, 7:45 a.m.: Due to an editing error, Question 11 originally featured no correct answers. The quiz is now working properly.