Play the Slate News Quiz
With Jeopardy! superchampion Ken Jennings.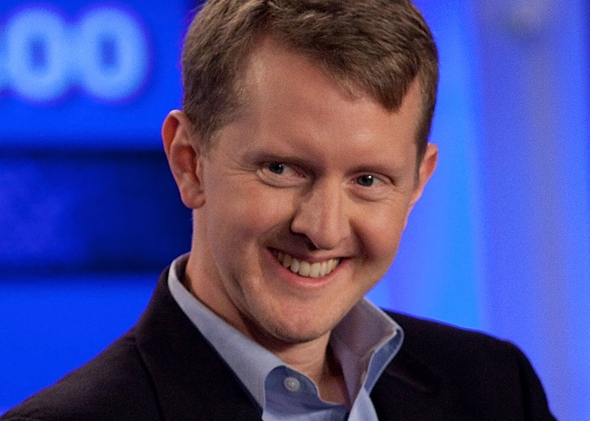 Welcome back to Slate's weekly news quiz. I'm your host, 74-time Jeopardy! winner Ken Jennings.
Every Friday I'll be testing your knowledge with 12 challenging questions on the week's news events, big and small, including happenings in science, sports, politics, and culture both high and low. The questions are multiple-choice, and time is of the essence: You have 30 seconds to answer, and as the seconds tick away, the question's point value drops from 50 all the way down to zero, so you'll want to click on your answer as fast as you possibly can. There's no penalty for an incorrect answer, so feel free to take a guess if your puny human brain fails you.
At the end of the quiz, you'll be able to compare your score with that of the average contestant, as well as with the score of a Slate-ster whom I've talked into taking the quiz on the record. This week's contestant is Dee Lockett, a blogger for Brow Beat.
Think you can ace my quiz and beat Dee Lockett? Good luck!

The Slate Quiz with quizmaster Ken Jennings


It's Banned Books Week! The American Library Association this week made its yearly tally of the most challenged books in the country. For the second year in a row, the most-banned title wasn't anything by Mark Twain or Toni Morrison and wasn't even Fifty Shades of Grey. It was Dav Pilkey's Captain Underpants series. For the record, the Slate News Quiz is always in favor of free speech, and also underpants.
Question 1
of 12
Which of these headline-making events took place in Yemen over the weekend?
The U.N. brokered a cease-fire after the Houthis, a group of Shiite rebels, took the capital and ousted the prime minister.
Question 2
of 12
Omar Gonzalez, the knife-wielding man who rushed the White House last Friday night, told the Secret Service that he wasn't there to stab the president, but merely to give him what warning?
Question 3
of 12
Six young Iranians have received a suspended sentence of six months in prison and 91 lashes for what dire offense?
The Tehran court called the popular YouTube clip "vulgar" and "illicit."
Question 4
of 12
On Sunday, Elena Kagan became the second sitting Supreme Court justice to do what?
Ruth Bader Ginsburg has performed a same-sex wedding before, as has retired justice Sandra Day O'Connor.
Question 5
of 12
What is Alibaba, which raised $25 billion in its public debut to become the biggest IPO of all time?
In its first day of trading, Alibaba closed with a valuation of $231 billion, surpassing Facebook.
Question 6
of 12
Norway has announced that it will pay the impoverished nation of Liberia $150 million in exchange for doing what?
Illegal logging is common in the West African country, which has agreed to protect 30 percent of its forests by 2020.
Question 7
of 12
Ending a six-month election dispute, political rivals Abdullah Abdullah and Ashraf Ghani agreed to a power-sharing agreement in what country?
Question 8
of 12
What controversial new slogan on the side of buses in Dallas drew criticism this week?
The ad is placed so that the handle of the sightseeing bus's back door emerges from the center of Kennedy's forehead.
Question 9
of 12
More than 300,000 people marched in Manhattan on Sunday to express their deep concern over what?
This week, the U.N. hosted the world's first climate summit in five years.
Question 10
of 12
A surprising post appeared on Facebook last Friday in which the new iPhone 6 was hyped by whom?
The posthumous post was hurriedly deleted.
Question 11
of 12
This week, Kansas became the first state in the U.S. to designate an official month promoting preparedness for what?
"This is a fun and low-stress way to get families involved" in disaster preparedness, said a spokeswoman.
Question 12
of 12
A new online service in Germany will deliver what to your door every Wednesday?
"Air Food One" customers will receive leftover Lufthansa business class meals right to their front door weekly.

September 26, 2014


Anonymous User
Log in to track your scores!
vs.

Dee Lockett
Brow Beat blogger
A U.S. drone strike on al-Qaida's No. 2
A rebel takeover of the government
A truck bomb at the Syrian Embassy
"There's anthrax on the moon"
"The atmosphere is collapsing"
"John Kerry is a Chinese agent"
Blowing kisses from a bus window
Dancing to Pharrell's song "Happy"
Announce she will retire if Democrats hold the Senate
Recuse herself from a women's health case
Officiate at a gay wedding
Attack law school rankings
A Chinese e-commerce company
A Saudi construction company
A Russian petrochemical company
An Indian social media company
Quarantining Ebola patients
Switching to the metric system
Banning female circumcision
"Trust the government, turn in your guns" next to a photo of Sitting Bull
"You know it's a myth" next to a photo of Jesus
"Close the border" next to a photo of Obama in a sombrero
"Big things happen here" next to a photo of JFK
That woman with three breasts
Post-graduate unemployment
A printout of the week's most important Internet memes

Average
0 points

You
0 points


Dee Lockett
Brow Beat blogger
0 points
Answer quickly to earn more points!
Quiz Template by Chris Kirk and Andrew Morgan