Play the Slate News Quiz
With Jeopardy! superchampion Ken Jennings.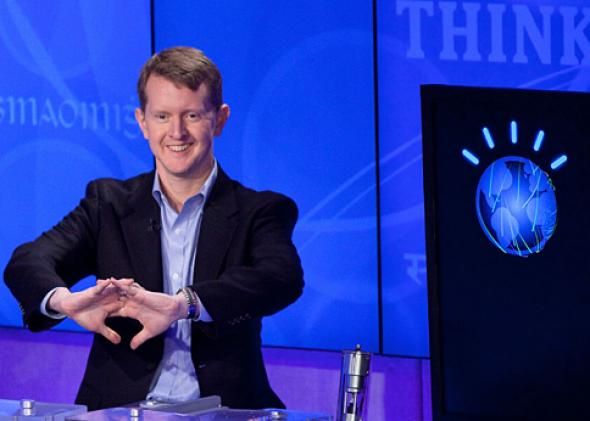 Welcome back to Slate's weekly news quiz. I'm your host, 74-time Jeopardy! winner Ken Jennings.
Every Friday I'll be testing your knowledge with 12 challenging questions on the week's news events, big and small, including happenings in science, sports, politics, and culture both high and low. The questions are multiple-choice, and time is of the essence: You have 30 seconds to answer, and as the seconds tick away, the question's point value drops from 50 all the way down to zero, so you'll want to click on your answer as fast as you possibly can. There's no penalty for an incorrect answer, so feel free to take a guess if your puny human brain fails you.
At the end of the quiz, you'll be able to compare your score with that of the average contestant, as well as to the score of a Slate-ster whom I've talked into taking the quiz on the record. This week's contestant is staff writer Katy Waldman.
Think you can ace my quiz and beat Katy Waldman? Good luck!

The Slate Quiz with quizmaster Ken Jennings


Last Friday, the nation of Sweden celebrated two centuries of uninterrupted peace when it marked the 200th anniversary of the treaty ending the Swedish-Norwegian War of 1814. That breaks even Switzerland's record for uninterrupted neutrality. After a week like this past one, it's nice to think that even a week of peace might be possible for the rest of us. Let's review the highlights and lowlights with the Slate News Quiz.
Question 1
of 12
James Foley, killed this week by Islamist militants, was kidnapped in 2012 while covering the unrest in what country?
"The entire world is appalled" by the brutal beheading, said President Obama on Wednesday as U.S. forces resumed airstrikes of ISIS targets in Iraq.
Question 2
of 12
Why did Hedy Epstein make headlines when she was arrested in St. Louis on Monday?
Epstein, a human rights activist for more than 70 years, was arrested while demonstrating in front of the governor's office.
Question 3
of 12
Fill in the blank: A new study from the University of Michigan suggests that people who know _____ reduce their risk of heart attacks by 67 percent.
"Social cohesion" appears to be an important determiner of cardiac health, says lead researcher Eric Kim.
Question 4
of 12
What appear on movie screens in a new filmgoing innovation called danmu that is sweeping Chinese theaters?
Danmu, or "bullet screens," allow audience comments to scroll across the action at any time.
Question 5
of 12
Wired estimated this week that it would take only 34 days for the entire world to do what?
The ALS Association has received more than $31 million in donations to battle Lou Gehrig's Disease thanks to the water-dumping awareness campaign that went viral this summer.
Question 6
of 12
Over the weekend, Kurdish and Iraqi forces retook control of what strategic site near Mosul?
ISIS control of the dam could have been catastrophic for the city of Mosul, which lies 30 miles downstream of the dam.
Question 7
of 12
Germany's Rolf Buchholz said that he was not allowed to enter the country of Dubai this week for fear that he would practice "black magic." Buchholz has a world-record 453 what?
In addition to his Guinness World Record for body piercings, Buchholz has horn implants in his forehead, which may have spooked immigration officials.
Question 8
of 12
The Russian Embassy has asked the Bulgarian government to take "exhaustive measures" against what trend in the capital city of Sofia?
The Bulgarian spray-paint artists favor characters like Superman, Captain America, and the Joker.
Question 9
of 12
Why did the head of St. Louis' Ethical Society of Police, an organization for black cops, face threats and hate mail last week?
Darren Wilson, who has spent his 18 years on the St. Louis police force working on racial issues, is not the same officer as Darren Wilson, still in seclusion after last week's shooting.
Question 10
of 12
Rock-throwing residents have clashed with army troops in the West Point slum of Monrovia, which has been cordoned off with barbed wire for what reason?
In Liberia, more than 576 deaths from the virus have been reported.
Question 11
of 12
A robot made from a beer cooler with pool noodles for arms and legs has spent the last three weeks completing what remarkable task?
"HitchBot" was a university experiment in robot-human relations—and a resoundingly successful one, as the robot didn't get mugged once.
Question 12
of 12
Last week, a Texas woman stole a $4 bottle of wine from a gas station and hung around drinking it until police showed up. Why did she tell the cops she wanted to be arrested?
Alicia Walicke of Cedar Park was standing by her man, who had been arrested earlier in the evening.

August 22, 2014


Anonymous User
Log in to track your scores!
vs.

Katy Waldman
Staff Writer
She is the widow of a former St. Louis police chief
Police threatened to shoot her after she surrendered
She covers war zones for the Washington Post
She is a 90-year-old Holocaust survivor
All the words to the Flintstones theme
Nude images of the actors
Text messages from audience members
Garbled English subtitles
Switch to renewable power
Complete the ALS Ice Bucket Challenge
Learn to sing in perfect harmony
Calling Botox treatments "Putin shots"
Performing Skype marriages for gay Russian couples
Repainting Soviet-era monuments as American superheroes
Protesting for boycotts of the 2018 World Cup
He threatened, on camera, to kill Ferguson protesters
His son is the county's prosecuting attorney
His picture appears on all the city's tear-gas cartridges
He has the same name as the cop who shot Michael Brown
To quarantine an Ebola outbreak
To quash riots after a controversial police chokehold death
To enforce the results of a contested election
To combat a series of sexual assaults
Hitchhiking across Canada
Winning a game of Tetris in space using real blocks
Saving the lives of hundreds of geese at airports
Building an exact duplicate of itself
To see her boyfriend in jail
To get a break from her 17 brothers and sisters
To protest a local law against drinking on Sunday
To get a mug shot photo taken with Rick Perry

Average
0 points

You
0 points


Katy Waldman
Staff Writer
0 points
Answer quickly to earn more points!
Quiz Template by Chris Kirk and Andrew Morgan