Play the Slate News Quiz
With Jeopardy! superchampion Ken Jennings.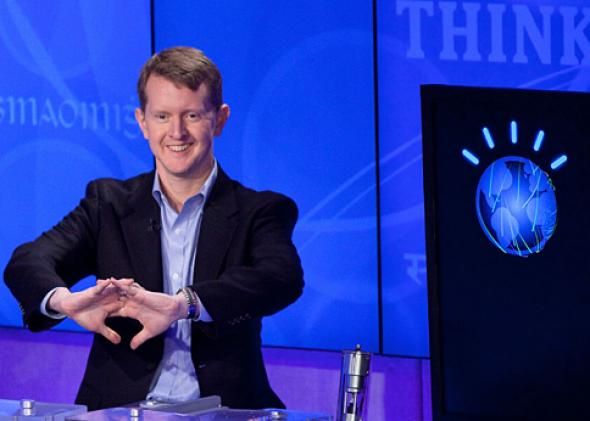 Welcome back to Slate's weekly news quiz. I'm your host, 74-time Jeopardy! winner Ken Jennings.
Every Friday I'll be testing your knowledge with 12 challenging questions on the week's news events, big and small, including happenings in science, sports, politics, and culture both high and low. The questions are multiple-choice, and time is of the essence: You have 30 seconds to answer, and as the seconds tick away, the question's point value drops from 50 all the way down to zero, so you'll want to click on your answer as fast as you possibly can. There's no penalty for an incorrect answer, so feel free to take a guess if your puny human brain fails you.
At the end of the quiz, you'll be able to compare your score with that of the average contestant, as well as to the score of a Slate-ster whom I've talked into taking the quiz on the record. This week's contestant is Forrest Wickman, Brow Beat writer and music quiz auteur.
Think you can ace my quiz and beat Wickman? Good luck!

The Slate Quiz with quizmaster Ken Jennings


As you know if you've been watching the news, it's become abundantly clear that basketball player Ron Artest's 2011 name change to Metta World Peace has not, in fact, brought about world peace. World Peace appears to know that better than anyone, and he announced on Twitter this week that when he moves to the Sichuan Blue Whales of the Chinese Basketball Association next season, he will change his name again, to "The Pandas Friend." Maybe this one will work out better.
Question 1
of 12
A Category 2 storm named Iselle was predicted to become the first hurricane in 22 years to make landfall where?
Another hurricane, Julio, is following close behind.
Question 2
of 12
A three-day truce in what war appeared to be holding this week, after the last attempt collapsed in only 90 minutes?
Question 3
of 12
On Thursday, a U.N.-backed tribunal handed down the first judgments of "murder" and "extermination" against the leaders of what regime?
Life sentences were imposed on Khieu Samphan and Nuon Chea, ending a trial that began in 2011.
Question 4
of 12
MIT researchers have discovered a way to eavesdrop on people by doing what?
By watching the vibrations in ordinary items like house-plant leaves or foil bags, the scientists were able to reconstruct the sounds that created them.
Question 5
of 12
On Tuesday, Becky Hammon became the first woman ever hired full-time to work where?
The retiring WNBA star will join Gregg Popovich's San Antonio Spurs coaching staff next season.
Question 6
of 12
Medical teams battling the Ebola outbreak in West Africa are finding it difficult to prevent what local practice, a likely vector for the disease?
"Bush meat"—a jerky-like food made from bats, monkeys, or other jungle animals, is a traditional source of protein in the region.
Question 7
of 12
What country's new House of Representatives called for a U.N.-supervised cease-fire this week, with the country's two largest cities still controlled by warring militias?
The new parliament is meeting in Tobruk, as Tripoli and Benghazi are still claimed by Islamic hard-liners.
Question 8
of 12
Last week in Nature, a team of planetary scientists announced a solution to the 4-billion-year-old mystery of why the Moon is shaped like what?
The moon is, it turns out, not a perfect sphere. Gravity has given it two rounded tips, on an axis aligned with Earth.
Question 9
of 12
At a news conference last Friday, who made the blunt admission, "We tortured some folks"?
Question 10
of 12
A new investigation has revealed that a Russian crime ring has stolen an astounding 1.2 billion of what?
A Milwaukee security firm says the hackers targeted 420,000 different websites, many of which are still vulnerable.
Question 11
of 12
What was unusually notable about the death of the U.S. Army's Harold J. Greene, who died Tuesday in Afghanistan?
Greene is the first American general to lose his life in an overseas conflict since the Vietnam War.
Question 12
of 12
In a church basement in Sweden, erotic novelist Kicki Karlen was shocked to find 80 skeletons stuffed into what containers?
The remains had apparently been dug up, but never reinterred, when wheelchair ramps were added to the churchyard in 2009.

August 8, 2014


Anonymous User
Log in to track your scores!
vs.

Forrest Wickman
Brow Beat blogger
The war in Eastern Ukraine
Listening to their keyboard clicks
Watching their Adam's apple
Filming their potato chip bags
Lifting fingerprints from their phone screens
Using human blood as tattoo ink
Fertilizing crops with ground-up antlers
Sharing clothes with rhesus monkeys
It was the 5,000th U.S. death in Afghanistan
He was a two-star general
His four brothers have also died in combat since 9/11

Average
0 points

You
0 points


Forrest Wickman
Brow Beat blogger
0 points
Answer quickly to earn more points!
Quiz Template by Chris Kirk and Andrew Morgan