Play the Slate News Quiz
With Jeopardy! superchampion Ken Jennings.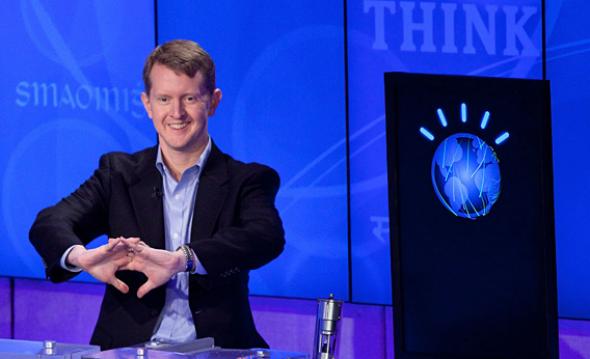 Welcome back to Slate's weekly news quiz. I'm your host, 74-time Jeopardy! winner Ken Jennings.
Every Friday I'll be testing your knowledge with 12 challenging questions on the week's news events, big and small, including happenings in science, sports, politics, and culture both high and low. The questions are multiple-choice, and time is of the essence: You have 30 seconds to answer, and as the seconds tick away, the question's point value drops from 50 all the way down to zero, so you'll want to click on your answer as fast as you possibly can. There's no penalty for an incorrect answer, so feel free to take a guess if your puny human brain fails you.
At the end of the quiz, you'll be able to compare your score with that of the average contestant, as well as to the score of a Slate-ster whom I've talked into taking the quiz on the record. This week's contestant is Alison Griswold, Slate's business blogger.
Think you can ace my quiz and beat Griswold? Good luck!

The Slate Quiz with quizmaster Ken Jennings


In fossil news this week, the world's largest bird has been identified. The long-extinct Pelagornis sandersi had a 24-foot wingspan, more than twice as wide as today's champ, the royal albatross. Meanwhile, researchers in British Columbia have discovered the 52-million-year-old fossil of a tiny mammal about the length of a human thumb, which makes it the smallest hedgehog ever discovered. Here are 12 questions on more of this week's news, both big stuff and small.
Question 1
of 12
On Tuesday, President Obama asked Congress for $3.7 billion to address what problem?
Since October, more than 52,000 unaccompanied child migrants from Central America have been stopped trying to cross the U.S.-Mexico border.
Question 2
of 12
Long lines and critical shortages of what were expected in Washington state this week?
Legal pot sales began in the Evergreen State on Tuesday, but only about 80 growers out of 2,600 applicants have been approved and licensed so far.
Question 3
of 12
Former politician Ray Nagin was sentenced to 10 years this week on 20 counts of corruption, mostly from schemes that followed what event?
Nagin was mayor of New Orleans from 2002 to 2010.
Question 4
of 12
Roy Cockrum of Knoxville, Tennessee, won $259.8 million playing Powerball, several years after he did what?
Brother Roy will donate most of the winnings to charity, as he's a lifelong member of the Society of St. John the Evangelist. (One who still buys Powerball tickets, apparently.)
Question 5
of 12
For decades, President Warren G. Harding's descendants have prevented the publication of letters to his longtime mistress Carrie Fulton Phillips, which contain what surprising revelation?
"Wish I could take you to Mount Jerry. Wonderful spot," he once wrote to Phillips. She was the wife of his close friend—and possibly a spy for the Germans during World War I.
Question 6
of 12
According to a four-month Washington Post investigation, nine out of 10 people caught in the NSA's surveillance web had what in common?
In a literary vein, the Post also contemplates the "startlingly intimate, even voyeuristic quality" of much of the content.
Question 7
of 12
The defense, led by lawyer Barry Roux, rested this week in what man's trial, which stands adjourned until final arguments begin in August?
Pistorius' family and defense team protested this week when a video of the South African athlete re-enacting the shooting was leaked to television.
Question 8
of 12
The Bill and Melinda Gates Foundation is bankrolling a proposed new form of birth control that can be turned on and off how?
The tiny implant is a microchip that can last up to 16 years. For obvious reasons, the developers' biggest concern at the moment is making sure the device can't be hacked.
Question 9
of 12
In unusual video footage released this week, who was spotted limping across a stage for reasons unknown?
The North Korean media is typically carefully controlled to avoid any such signs of weakness.
Question 10
of 12
Attention, vegetarians: A new study from the University of Missouri has found that plants can do what?
There's new evidence that plants can feel the vibrations of predators like caterpillars chewing on their leaves, so they can bulk up their defense systems.
Question 11
of 12
Tensions in the Middle East rose this week as Israel carried out airstrikes on more than 750 targets where?
Israel was responding to rocket salvos fired by Hamas militants deep into Israeli territory.
Question 12
of 12
A young man from Columbus, Ohio, named Zack Brown made more than $40,000 on Kickstarter this week after he asked for $10 for what worthy cause?
"It might not be that good," Brown warned potential donors. "It's my first potato salad."

July 11, 2014


Anonymous User
Log in to track your scores!
vs.

Alison Griswold
Business Blogger
People who still leave voicemail
The Boston Marathon bombing
Awoke from a 40-year coma
Won $120 million playing Lottery Canada
Took a monastic vow of poverty
Predicted that a comet would destroy the Earth
He preferred prostitutes with large feet
They once had a threesome with King Albert of Belgium
He liked to dress as a cowgirl
He called his penis "Jerry"
They were not the intended target
They were American citizens
With a change of underwear
With a Supreme Court decision
The entire Brazilian soccer team
Raise blood cholesterol more than bacon
Communicate through their roots
Hear themselves being eaten
To make a dish of potato salad
To drop a bowling ball off his apartment building
To get a tattoo of Charlie Rose

Average
0 points

You
0 points


Alison Griswold
Business Blogger
0 points
Answer quickly to earn more points!
Quiz Template by Chris Kirk and Andrew Morgan
Update, July 13, 2014: Tablet users might see incorrect numbers in Questions 1 and 12. We apologize for the inconvenience and are working to resolve it.