Play the Slate News Quiz
With Jeopardy! superchampion Ken Jennings.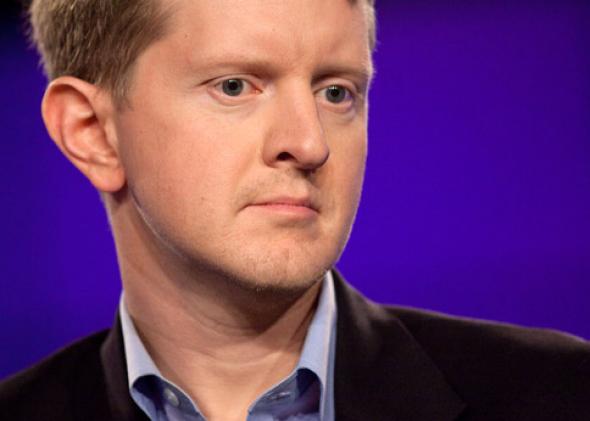 Welcome back to Slate's weekly news quiz. I'm your host, 74-time Jeopardy! winner Ken Jennings.
Every Friday I'll be testing your knowledge with 12 challenging questions on the week's news events, big and small, including happenings in science, sports, politics, and culture both high and low. The questions are multiple-choice, and time is of the essence: You have 30 seconds to answer, and as the seconds tick away, the question's point value drops from 50 all the way down to zero, so you'll want to click on your answer as fast as you possibly can. There's no penalty for an incorrect answer, so feel free to take a guess if your puny human brain fails you.
At the end of the quiz, you'll be able to compare your score with that of the average contestant, as well as to the score of a Slate-ster whom I've talked into taking the quiz on the record. This week's contestant is June Thomas, culture critic and the editor of Outward, Slate's LGBTQ section.
Think you can ace my quiz and beat Thomas? Good luck!

The Slate Quiz with quizmaster Ken Jennings


The Slate Quiz is back! It'll take you just a minute or two to test your knowledge of the past week's news. On the plus side, that's Internet time you won't spend shopping—for example, buying the tiny town of Swett, South Dakota. Last week, Swett's lone residents put the whole community up for sale for the low, low price of $399,000. That includes a tire shop, three trailers, and a popular local tavern. You're probably better off sticking to the news quiz. No Swett.
Question 1
of 12
A cease-fire ended Tuesday in what nation, with the president announcing on Facebook that he would fight "to free our land from dirt and parasites"?
Question 2
of 12
On Saturday in Hawaii, NASA successfully tested a "flying saucer" craft that it plans to use for what?
Question 3
of 12
According to a New York Times report, an official inquiry was ended after who made death threats to government investigators?
"I could shoot and kill you here in Iraq and no one would do anything about it," the Blackwater project manager allegedly told his State Department guests in 2007. Sassy!
Question 4
of 12
After a 32-year career, Michelle Howard has become the first woman ever named to what position?
In 1999, Howard became the first black woman to command a Navy ship.
Question 5
of 12
Last week, Bolivia's leftist government announced what unusual reform, to show the country's new direction?
And speaking of turning back the clock, up next we have a question about Burwell v. Hobby Lobby.
Question 6
of 12
The Supreme Court ruled this week that Hobby Lobby cannot be compelled to provide employees with what?
The improbably named retailer has religious objections to certain methods of contraception for women, or at least paying for them.
Question 7
of 12
Facebook owned up to secretly doing what to 689,003 users back in January 2012?
Backlash mounted when Facebook published a study showing that it found it could change the mood of its users' posts by tweaking the content of their feeds.
Question 8
of 12
A British medical society announced last weekend that the United Kingdom is facing a critical shortage of what?
Supplies have dropped dramatically since 2005, when donors lost the right to anonymity, and fertility clinics are increasingly reliant on overseas donations.
Question 9
of 12
At long last, $76 million in funding has been approved to erect a suicide barrier where?
A stainless steel net will be erected to deter jumpers. A record 46 suicides occurred on the bridge in 2013.
Question 10
of 12
The Obama administration has announced that it is seeking to join 161 other countries in the Ottawa Convention, an international treaty condemning what?
The goal is to ban landmines altogether by 2025, but some U.S. politicians have objected, calling mines an important weapon in the country's military arsenal.
Question 11
of 12
A new Oxford Economics analysis shows that Americans lead the world by having accumulated 429 million of what this year?
Question 12
of 12
In a bizarre final legacy of slain drug lord Pablo Escobar, what has been chomping cattle and scaring farmers in the jungle east of Medellin, Colombia?
The BBC reports that the out-of-control hippo population in the Magdalena River is descended from four animals that escaped from Escobar's ranch two decades ago.

July 4, 2014


Anonymous User
Log in to track your scores!
vs.

June Thomas
Outward Editor
Mining precious metals from asteroids
Removing defunct satellites from orbit
Anally probing drifters and cattle
Veterans Affairs administrators
The FBI's "Most Wanted" fugitive
President of an Ivy League university
Four-star U.S. Navy admiral
Making the clock on top of the Congress building run counterclockwise
Adding a 3-D flying eagle to the national flag
Alphabetizing the phone book by first name
Scrapbooking paper and glitter glue
Running facial recognition on all their photos
Crashing Google apps on their mobile devices
Selling their data to China
Manipulating their emotions for science

Average
0 points

You
0 points


June Thomas
Outward Editor
0 points
Answer quickly to earn more points!
Quiz Template by Chris Kirk and Andrew Morgan