Play the Slate News Quiz
With Jeopardy! superchampion Ken Jennings.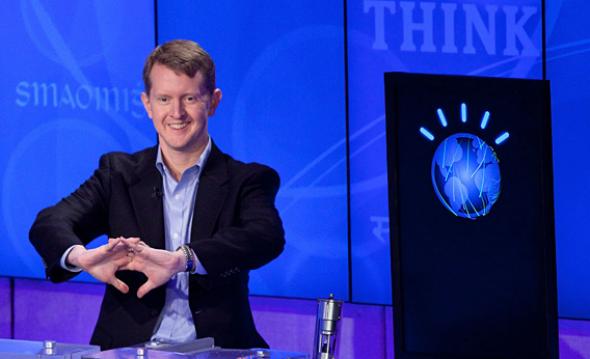 Welcome back to Slate's weekly news quiz. I'm your host, 74-time Jeopardy! winner Ken Jennings.
Every Friday I'll be testing your knowledge with 12 challenging questions on the week's news events, big and small, including happenings in science, sports, politics, and culture both high and low. The questions are multiple-choice, and time is of the essence: You have 30 seconds to answer, and as the seconds tick away, the question's point value drops from 50 all the way down to zero, so you'll want to click on your answer as fast as you possibly can. There's no penalty for an incorrect answer, so feel free to take a guess if your puny human brain fails you.
At the end of the quiz, you'll be able to compare your score with that of the average contestant, as well as to the score of a Slate-ster whom I've talked into taking the quiz on the record. This week's contestant is Lily Hay Newman, who is the lead blogger for Future Tense.
Think you can ace my quiz and beat Lily? Good luck!

The Slate Quiz with quizmaster Ken Jennings


The Economist reported recently that Psy's "Gangnam Style" video has now been watched more than 2 billion times on YouTube. This means the human race has spent four times as long watching "Gangnam Style" as it did to build the Great Pyramid of Giza, and nearly twice as long as it has to write and edit all of Wikipedia. What I'm saying is, you don't have to feel too bad about wasting a minute or two on this week's Slate News Quiz.
Question 1
of 12
"I think we are open to any constructive process here that could minimize the violence," said John Kerry this week, on the possibility that the U.S. could cooperate with what unlikely ally in Iraq?
The Pentagon has ruled out actual military coordination, but the Obama administration is pursuing talks with Iran on the situation in Iraq.
Question 2
of 12
Instead of the expected Champagne and state banquet, a low-key event with light tapas was held by Spain on Thursday for what event?
The ascension of Crown Prince Felipe to the Spanish throne was a frugal affair, due to the nation's ongoing economic difficulties.
Question 3
of 12
Starbucks announced this week that it would be the first U.S. company to provide what?
Starbucks is offering scholarships and tuition reimbursement for employees seeking online degrees from Arizona State University.
Question 4
of 12
Juan Manuel Santos won re-election in Colombia this week, a victory for what controversial initiative of his presidency?
For the last 19 months, Santos' government has been negotiating with FARC, the Marxist militia that controls vast tracts of rural Colombia.
Question 5
of 12
On Tuesday an anonymous buyer paid $9.5 million at auction for the British Guiana Magenta, a new record price for what?
The tiny black-and-magenta octagon is believed to be the only surviving example of a 1-cent issue from 1856, making it the world's rarest stamp.
Question 6
of 12
Researchers at Northwestern University and the University of New Mexico were surprised to discover vast quantities of what, 400 miles beneath the Earth's surface?
The reservoir of water, embedded in the mineral ringwoodite, is enough to fill oceans, and suggests that Earth's water may have originated from within the planet.
Question 7
of 12
On Monday two dozen Delta Force commandos seized Ahmed Abu Khattala, suspected of being the ringleader behind what act?
Question 8
of 12
"At my age, I have nothing to lose," said Pope Francis last week, about his plans to do what?
The pontiff pooh-poohed his bulletproof car as a "sardine can," saying he prefers to be open with crowds despite the security risks.
Question 9
of 12
Citing an unpaid bill of $4.5 billion, the company Gazprom cut off what this week?
Ukraine missed a deadline imposed by Russia's natural gas monopoly, leading to a shutoff that could threaten European gas supplies.
Question 10
of 12
On Tuesday, President Obama announced plans to expand soon on what Bush administration accomplishment?
Obama plans to increase the size of the Pacific Remote Islands Marine National Monument, created by Bush in 2009, almost tenfold.
Question 11
of 12
The hot pepper, the chipmunk, the golfer, and the floppy disk all made this week's list of new what?
Also coming soon to your smartphone: gestures like the Vulcan salute and the "Reversed Hand with Middle Finger Extended."
Question 12
of 12
An animal research center in Chengdu, China has forbidden its panda cubs from doing what?
After announcing that the pandas would be predicting the outcomes of soccer games, like a celebrated German octopus did in 2010, the authorities backpedaled to shield the cubs from too much human contact.

June 20, 2014


Anonymous User
Log in to track your scores!
vs.

Lily Hay Newman
Future Tense Blogger
The coronation of a new king
The U.N. climate change summit
The opening of the Culinary Hall of Fame
Last rites for its World Cup team
A 100 percent gluten-free environment
Free college tuition for employees
Christmas music—year-round!
Building a U.S. Navy base
The Boko Haram kidnappings
The Madrid train bombings
The Syrian nerve gas attacks
Hold peace talks in Cyprus
Natural gas shipments to Ukraine
More than half of Los Angeles' water supply
Electricity to the West Bank
The Internet in Venezuela
National teacher certification
Pacific marine sanctuaries
A massive invasion of Iraq
Landmarks discovered on Mars
Proposed Washington NFL team names
Getting measles vaccinations
Predicting World Cup matches
Groping female scientists
Watching Korean soap operas

Average
0 points

You
0 points


Lily Hay Newman
Future Tense Blogger
0 points
Answer quickly to earn more points!
Quiz Template by Chris Kirk and Andrew Morgan