Play the Slate News Quiz
With Jeopardy! superchampion Ken Jennings.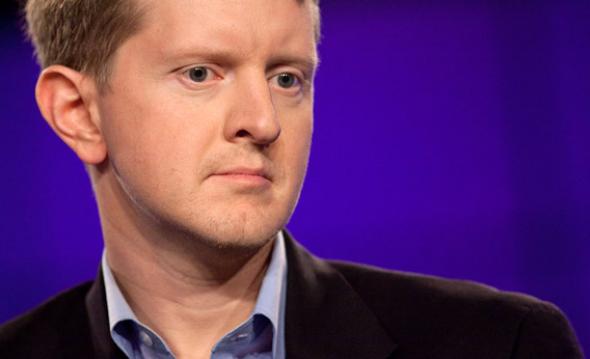 Welcome back to Slate's weekly news quiz. I'm your host, 74-time Jeopardy! winner Ken Jennings.
Every Friday I'll be testing your knowledge with 12 challenging questions on the week's news events, big and small, including happenings in science, sports, politics, and culture both high and low. The questions are multiple-choice, and time is of the essence: You have 30 seconds to answer, and as the seconds tick away, the question's point value drops from 50 all the way down to zero, so you'll want to click on your answer as fast as you possibly can. There's no penalty for an incorrect answer, so feel free to take a guess if your puny human brain fails you.
At the end of the quiz, you'll be able to compare your score with that of the average contestant, as well as to the score of a Slate-ster whom I've talked into taking the quiz on the record. This week's contestant is Slate assistant editor L.V. Anderson. She edits Slate's food and drink sections and writes Brow Beat's recipe column, You're Doing It Wrong.
Think you can ace my quiz and beat Anderson? Good luck!

The Slate Quiz with quizmaster Ken Jennings


An 89-year-old Scot named Jock Hutton parachuted 5,000 feet last week, coming to Earth in the same field where he'd landed 70 years ago as part of the D-Day invasion. "At my age, life tends to get a little boring," he explained. Last month a 13-year-old Indian girl, Malavath Purna, achieved even greater heights, becoming the youngest girl ever to climb Mount Everest. No matter what age you are, you're sure to find the Slate News Quiz to be a thrilling challenge.
Question 1
of 12
On Tuesday the second-largest city in what country expectedly fell to extremist militants?
After just a few days of fighting in Mosul, soldiers dropped their weapons and abandoned their posts, allowing insurgents from the Sunni group ISIS to take the city.
Question 2
of 12
In his unsuccessful Virginia primary fight, Eric Cantor spent $168,367 on what, about as much as opponent David Brat spent on the entire campaign?
The price tag, as of May 21, for Brat's campaign, which dethroned the House majority leader in a shocking upset: $122,792. (Cantor's restaurant bills came in the name of fundraising.)
Question 3
of 12
Why has Thailand's new military junta banned a three-finger salute commonly used by protesters?
Question 4
of 12
A new government audit shows that 57,436 Americans have been waiting—for more than three months—for what?
Question 5
of 12
Heinz and Ford announced this week that they will be partnering on what unusual initiative?
Ford's researchers think that tomato fibers show promise as a source for sustainable, plant-based plastics.
Question 6
of 12
A Washington Post-ABC News poll finds that half of all Americans now consider what to be a constitutional right?
Question 7
of 12
The prime minister of Ireland has announced an extensive inquiry into what controversial issue of the 1920s through the 1960s?
The Irish government will examine mortality rates, burial practices, forced adoptions, and medical testing at the "mother and baby homes."
Question 8
of 12
Since Sandy Hook, there has been another school shooting in the United States how often, on average?
The gun control group Everytown for Gun Safety has collected 74 accounts of school shootings since Newtown, each a tragic, isolated incident that says nothing about any weird pathology in our culture, so don't worry.
Question 9
of 12
A Seattle anesthesiologist has had his medical license suspended over allegations that he did what during surgery?
Arthur Zilberstein is accused of sending X-rated selfies from the OR, along with chatty texts like "I'm hella busy with C sections."
Question 10
of 12
On Monday, President Obama signed an executive order extending a 10 percent cap on what?
Five million more borrowers now have the option to cap their payments at 10 percent of their monthly income.
Question 11
of 12
What indignity did Vladimir Putin suffer in Paris last week?
The woman, from the radical protest group Femen, was arrested for bashing the statue apart with a chisel.
Question 12
of 12
What country has seen a tourism boom this year, with a 37 percent rise in hotel occupancy and a 40 increase rise in tour bookings?
Frozen is actually set in the kingdom of Arendelle, but nobody vacations there, because it's fictional.

June 13, 2014


Anonymous User
Log in to track your scores!
vs.

L.V. Anderson
Slate's food and drink editor
The Girl Scouts have been banned in Thailand since 2011.
The general who led the coup has only three fingers on his right hand.
It's an obscene sexual suggestion involving squirrels.
It's a sign of defiance from The Hunger Games.
Bagel Bites that cook on an engine block
A 27-foot-long Heinz "Picklemobile"
Car parts made of ketchup byproducts
Worcestershire sauce as biofuel
The IRA's "Border Campaign"
Cover-ups of priest sex abuse
Rigged parliamentary elections
Cut and styled the patient's hair
The drawdown in Afghanistan
His bodyguard was arrested for shoplifting
Hitler's picture was displayed above his name at a D-Day service
Polish hotel staff refused to clean his room
A topless protester stabbed his wax statue in a museum
The Netherlands, thanks to The Fault in Our Stars
Argentina, thanks to Pope Francis
North Korea, thanks to Dennis Rodman

Average
0 points

You
0 points


L.V. Anderson
Slate's food and drink editor
0 points
Answer quickly to earn more points!
Quiz Template by Chris Kirk and Andrew Morgan