Play the Slate News Quiz
With Jeopardy! superchampion Ken Jennings.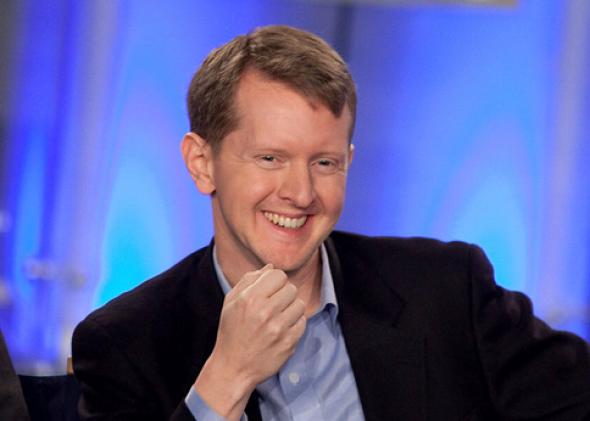 Welcome back to Slate's weekly news quiz. I'm your host, 74-time Jeopardy! winner Ken Jennings.
Every Friday I'll be testing your knowledge with 12 challenging questions on the week's news events, big and small, including happenings in science, sports, politics, and culture both high and low. The questions are multiple-choice, and time is of the essence: You have 30 seconds to answer, and as the seconds tick away, the question's point value drops from 50 all the way down to zero, so you'll want to click on your answer as fast as you possibly can. There's no penalty for an incorrect answer, so feel free to take a guess if your puny human brain fails you.
At the end of the quiz, you'll be able to compare your score to that of the average contestant, as well as to the score of a Slate-ster (or honorary Slate-ster) whom I've talked into taking the quiz on the record. This week's contestant is a literal member of the Slate family: Noa Rosinplotz, the 13-year-old daughter of DoubleX founder Hanna Rosin and Slate editor David Plotz.
Think you can ace my quiz and beat Rosinplotz? Good luck!


The Slate Quiz with quizmaster Ken Jennings


A Phoenix woman was banned this week from cartwheeling at public meetings. Dianne "DD" Barker calls the ban "intimidating, threatening, and defaming," and says she will continue to cartwheel to show her support for fitness and public transit. The local government insists they're just worried she's going to hurt herself, or others, with her freewheeling gymnastics. You're more than welcome to do cartwheels if you score well at remembering the week's other top news stories on this week's news quiz.
Question 1
of 12
The NFL has announced that the 2016 Super Bowl will be the first in more than four decades not to feature what?
Because "Super Bowl L" would look weird in a logo, "Super Bowl XLIX" will be followed by "Super Bowl 50."
Question 2
of 12
Chester Nez, who died on Wednesday in New Mexico, was the last living member of what group?
Nez was the last of the original 29 Navajos who helped design the famous code used by the U.S. military during World War II.
Question 3
of 12
In a landmark ruling, the Department of Health and Human Services has lifted its ban on covering what?
The case concerned Denee Mallon, a 74-year-old Army veteran from Albuquerque, whose Medicare request was denied in 2012.
Question 4
of 12
Last week, what location got working broadband Wi-Fi for the first time ever?
NASA and MIT scientists used lasers to deliver an Internet connection to a lunar satellite at speeds faster than you probably have at home.
Question 5
of 12
Since Bowe Bergdahl went missing and was captured by the Taliban in 2009, his father Robert has refused to do what?
Bob Bergdahl now has a long bushy beard, has studied Afghan languages like Pashto and Urdu, and has drawn criticism for publicly thanking the Taliban for taking care of his son.
Question 6
of 12
Who got in hot water last week for shaving the armpits of a disabled 14-year-old girl?
The girl's parents have lodged a complaint, but the teacher says the lesson on shaving was a standard part of the school's independent living skills curriculum.
Question 7
of 12
President Obama will soon nominate a candidate for what government office, which has been vacant for more than 20 years?
The State Department called the move a sign of "faith that better times are ahead" in the violence-wracked African nation.
Question 8
of 12
Who announced on Monday that he would be stepping down, his popularity never having recovered from a controversial elephant-hunting trip he took in 2012?
It is "time to hand over to a new generation," said Juan Carlos, whose son Felipe will be crowned later this month.
Question 9
of 12
On Monday, the Obama administration proposed a 30 percent cut in what by the year 2030?
The EPA proposal would be the first rule ever to regulate CO2 emissions of existing U.S. power plants.
Question 10
of 12
A new study from University of Illinois researchers claims that what are nearly three times as deadly as their male counterparts?
The implication is that sexism leads people to take a hurricane named Katrina less seriously than one named Karl, though some critics have disagreed with the study's methodology.
Question 11
of 12
Which of these world leaders was elected to a third term with 88.7 percent of the vote this week, in an election that the U.S. State Department called "meaningless"?
Question 12
of 12
For the first time since 1962, the Scripps National Spelling Bee was won by whom?
A tie was declared between Sriram Hathwar and Ansun Sujoe when the bee ran out of words.

June 6, 2014


Anonymous User
Log in to track your scores!
vs.

Noa Rosinplotz
David Plotz and Hanna Rosin's 13-year-old daughter
One of those sleazy Danica Patrick ads
The first Mt. Everest expedition
Acupuncture and holistic medicine
Gender-reassignment surgery
Lung cancer screening for smokers
Erectile dysfunction treatment
Yellowstone National Park
That Best Western by the airport
A schoolteacher in Australia
Police in Uttar Pradesh, India
A judge in Billings, Montana
A totally stoned Maureen Dowd
Chairman of the U.S. Metric Board
The archbishop of Canterbury
Fights in women's prisons
Hurricanes with female names
Nettie Crawford of El Paso, Texas, who is now 67

Average
0 points

You
0 points


Noa Rosinplotz
David Plotz and Hanna Rosin's 13-year-old daughter
0 points
Answer quickly to earn more points!
Quiz Template by Chris Kirk and Andrew Morgan