Play the Slate News Quiz
With Jeopardy! superchampion Ken Jennings.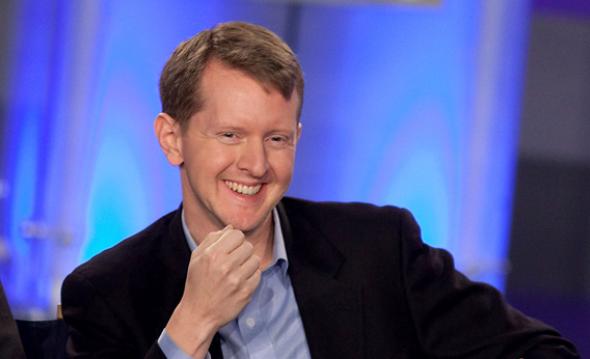 Welcome back to Slate's weekly news quiz. I'm your host, 74-time Jeopardy! winner Ken Jennings.
Every Friday I'll be testing your knowledge with 12 challenging questions on the week's news events, big and small, including happenings in science, sports, politics, and culture both high and low. The questions are multiple-choice, and time is of the essence: You have 30 seconds to answer, and as the seconds tick away, the question's point value drops from 50 all the way down to zero, so you'll want to click on your answer as fast as you possibly can. There's no penalty for an incorrect answer, so feel free to take a guess if your puny human brain fails you.
At the end of the quiz, you'll be able to compare your score with that of the average contestant, as well as with the score of a Slate-ster whom I've talked into taking the quiz on the record. This week's contestant is Ben Mathis-Lilley, who edits the Slatest.
Think you can ace my quiz and beat Mathis-Lilley? Good luck!

The Slate Quiz with quizmaster Ken Jennings


From the look of recent headlines, everything old is new again. Neo-Nazis are back, claiming their first-ever seats in the European Parliament on Sunday after electoral success in Germany and Greece. Measles is back, having its best year in two decades due to unvaccinated Americans. Worst of all, Michael Jackson is back, in hologram form, after emerging last week at the Billboard Music Awards. Was there any new news this week? Find out with this week's Slate Quiz.
Question 1
of 12
The new president-elect of Ukraine is Petro Poroshenko, a business magnate who made his billions selling what?
Ukrainians call Poroshenko the "Chocolate King."
Question 2
of 12
What is now scheduled to end on Dec. 31, 2016, after 5,565 days, making it the longest of its kind in U.S. history?
After this year, a residual force of just 9,800 troops will remain in Afghanistan to ease the transition.
Question 3
of 12
A Spanish village 160 miles north of Madrid voted 29-19 this week to change its current name, which means what?
Castrillo Matajudios, which took its name after the Jews were expelled from Spain in 1492, will revert to the old spelling, Motajudios, meaning "Jews' Hill."
Question 4
of 12
Joshua Newville, a Minneapolis attorney, is filing a case to end North Dakota's status as the last U.S. state to have what?
Question 5
of 12
Donald Levine, who died of cancer in Rhode Island last week, is best known as the man who gave what to American children?
Levine was a longtime Hasbro executive whose G.I. Joe was the toy industry's first "action figure."
Question 6
of 12
Senators from both sides of the aisle have called for the resignation of which Obama Cabinet member?
The Veterans Affairs secretary is under fire as new reports emerge of a systemic nationwide cover-up of wait times at VA hospitals.
Question 7
of 12
What country's king has endorsed its newest leader, the no-nonsense army general who took power in last week's coup?
"This is not a coup," said Gen. Prayuth Chan-ocha, as his junta took over the government and imposed martial law.
Question 8
of 12
Which of these men became a great-grandfather for the first time last week?
The Rolling Stones resumed their world tour this week for the first time after the suicide of Jagger's girlfriend, fashion designer L'Wren Scott.
Question 9
of 12
This week New York magazine profiled athletes who swear by what unusual energy drink?
Breast milk donation isn't regulated the way other bodily fluids are, so these gym rats have no problem buying it online for $2.50 an ounce.
Question 10
of 12
Richard Martinez, who lost his son in the Isla Vista killing spree, told the media, "I want to keep talking and capitalize on my 15 minutes of fame to bring attention to this issue." What issue?
Question 11
of 12
Special operations forces commanders in the Pentagon, worrying that "the hashtag will bring [troops] out," are readying their forces to deploy into what country?
"We're being tweeted into combat," one official told NBC News, about the social media campaign to rescue the 276 girls abducted by Boko Haram last month.
Question 12
of 12
As part of a $700 million campaign to make Seoul more "female-friendly," South Korean authorities are rolling out what eyebrow-raising innovation?
That might sound condescending, but fear not: The ladies-only parking spaces are also painted pink and decorated with a miniskirt logo.

May 30, 2014


Anonymous User
Log in to track your scores!
vs.
Ben Mathis-Lilley
Editor of the Slatest
Rick Perry's term as Texas governor
The Curiosity Mars mission
A killer Dave Matthews Band jam
An unchallenged gay-marriage ban
Capital punishment by firing squad
Mirrors and nail files on park benches
Larger parking spaces for women
"Ladies' night" subway cars where single women ride free
Stroller lanes on escalators

Average
0 points

You
0 points

Ben Mathis-Lilley
Editor of the Slatest
0 points
Answer quickly to earn more points!
Quiz Template by Chris Kirk and Andrew Morgan