Play the Slate News Quiz
With Jeopardy! superchampion Ken Jennings.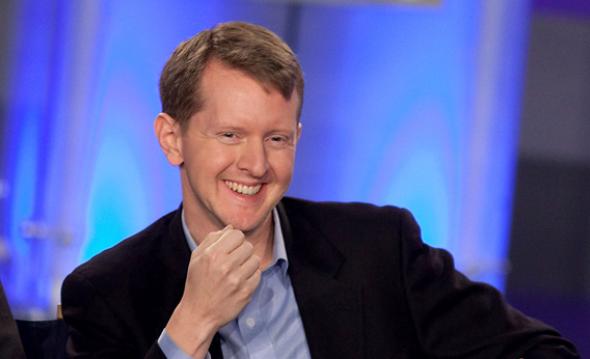 Every Friday I'll be testing your knowledge with 12 challenging questions on the week's news events, big and small, including happenings in science, sports, politics, and culture both high and low. The questions are multiple-choice, and time is of the essence: You have 30 seconds to answer, and as the seconds tick away, the question's point value drops from 50 all the way down to zero, so you'll want to click on your answer as fast as you possibly can. There's no penalty for an incorrect answer, so feel free to take a guess if your puny human brain fails you.
At the end of the quiz, you'll be able to compare your score with that of the average contestant, as well as to the score of a Slate-ster whom I've talked into taking the quiz on the record. This week's contestant is Slate's television critic, Willa Paskin.
Think you can ace my quiz and beat Paskin? Good luck!

The Slate Quiz with quizmaster Ken Jennings


Predrag Jovanovic, 34, told a British newspaper this week that he had been rejected by 5,000 women on Facebook. The lonely Serbian man, who says there are no eligible woman in his hometown, received 15 polite no-thank-yous and 4,985 no-replies. "When someone ignores you, that is the worst thing of all," says Jovanovic. Hopefully you won't strike out quite so often on this latest installment of the Slate News Quiz.
Question 1
of 12
United Nations envoy Lakhdar Brahimi announced his resignation Tuesday, out of frustration with new election plans in what country?
The Syrian army retook the rebel stronghold of Homs last week, and Bashar al-Assad has announced that he'll run for re-election on June 3.
Question 2
of 12
What "appears unstoppable," according to the University of California-Irvine's Eric Rignot about a new study released on Monday?
The NASA report says that the glaciers of West Antarctica have now "passed the point of no return."
Question 3
of 12
On Monday, what unexpected event shook up Clay Aiken's race for a North Carolina House seat?
Former state Commerce Secretary Keith Crisco had yet to concede the race when he died in a fall at his home. Aiken will be the Democratic candidate in November.
Question 4
of 12
Pope Francis announced on Monday that under his leadership, the Catholic Church would be willing to baptize whom?
"Who are we to close doors?" the pope said in his homily, describing these potential converts as "green, with long noses and big ears, like children draw."
Question 5
of 12
In the last week, prohibitions on same-sex marriage were struck down in all of the following places but one. Which one?
Nintendo says it's too late to add same-sex relationships to its Tomodachi Life video game, but apologized for the oversight and pledged that any future installments in the series will be "more inclusive."
Question 6
of 12
Investigator Barry Clifford said this week that his expedition has found what off the coast of Haiti?
Clifford hopes that, with the help of the Haitian government, he can begin excavating the wreck of the Santa Maria next week.
Question 7
of 12
Over the past week, naval flotillas of more than 100 ships have clashed in a dispute over the Paracel Islands, between what two countries?
The U.S. has called China's move to put a deepwater drilling rig in the disputed area "provocative."
Question 8
of 12
What disaster on Tuesday in Soma, Turkey, has killed more than 270 people and trapped at least 150 others beyond the reach of rescuers?
Question 9
of 12
Which of these recent movie titles is also the name that, according to the Social Security Administration last Friday, is now the most popular baby boy name in America?
"Noah" upset "Jacob," which had led the list for 14 years running, to take over the top spot.
Question 10
of 12
What did Vladimir Putin do last Friday that NATO condemned as "inappropriate"?
Ukraine called the visit a "flagrant violation" of its sovereignty.
Question 11
of 12
Which of these landmarks reopened this week after being closed for more than two and a half years due to earthquake damage?
Question 12
of 12
Researchers announced this week that they've discovered the world's oldest sperm. Where was it found?
Under centuries of bat poop, fossils of tiny shrimp called ostracods were found. The sperm cells are 17 million years old and remarkably big—up to 10 times longer than the shrimps themselves.

May 16, 2014


Anonymous User
Log in to track your scores!
vs.

Willa Paskin
Slate's TV critic
Glacial melt in Antarctica
A GOP takeover of the Senate
Aiken dropped out of a runoff
The race was ruled an exact tie
J.Lo overturned the results with a "Judges' Save"
Christopher Columbus' flagship
A newborn volcanic island
A 90-foot-long giant squid
The United States and Cuba
Iran and the United Arab Emirates
The collapse of a building under construction
The capsizing of a ship full of refugees
Threaten to annex Donetsk
Ban the Michael Sam video
The Leaning Tower of Pisa
A fossilized prehistoric turtle
Limestone in an Australian cave
A frozen Siberian mammoth

Average
0 points

You
0 points


Willa Paskin
Slate's TV critic
0 points
Answer quickly to earn more points!
Quiz Template by Chris Kirk and Andrew Morgan