Play the Slate News Quiz
With Jeopardy! superchampion Ken Jennings.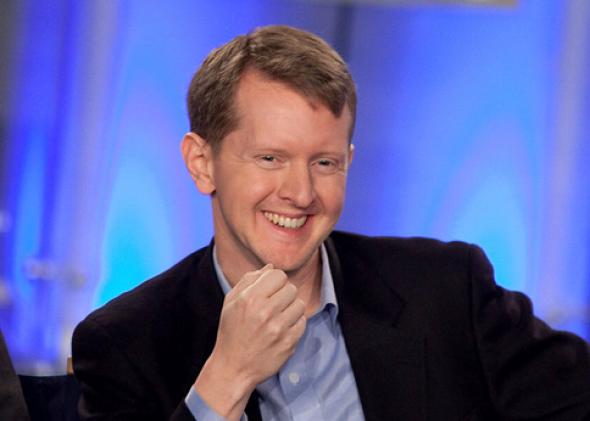 Welcome back to Slate's weekly news quiz. I'm your host, 74-time Jeopardy! winner Ken Jennings.
Every Friday I'll be testing your knowledge with 12 challenging questions on the week's news events, big and small, including happenings in science, sports, politics, and culture both high and low. The questions are multiple-choice, and time is of the essence: You have 30 seconds to answer, and as the seconds tick away, the question's point value drops from 50 all the way down to zero, so you'll want to click on your answer as fast as you possibly can. There's no penalty for an incorrect answer, so feel free to take a guess if your puny human brain fails you.
At the end of the quiz, you'll be able to compare your score with that of the average contestant, as well as to the score of a Slate-ster whom I've talked into taking the quiz on the record. This week's contestant is Slate senior editor Dan Kois, editor of the Slate Book Review.
Think you can ace my quiz and beat Kois? Good luck!

The Slate Quiz with quizmaster Ken Jennings


It was a big week for bans! Following Donald Sterling's lifelong ban from the NBA, Ben Affleck was reportedly banned from a Vegas blackjack table (for being "too good"), Vladimir Putin banned swearing in Russian films (@#$%!!!), and drones were banned in two U.S. national parks (they annoy the bighorn sheep). But rest assured that the Slate News Quiz is still completely legal in all 50 states and many overseas territories.
Question 1
of 12
In the first public response from the United States, President Obama will send a team of military and intelligence advisers overseas to address what crisis?
Question 2
of 12
What unusual conflagration struck the tiny town of Enaanger, Sweden last week?
A warehouse fire set off explosions in over 1,000 cans of Swedish fermented herring, which has been called one of the world's worst-smelling foods.
Question 3
of 12
A Costa Rican scientist published photographs this week of a bee and a butterfly drinking what no-longer-strictly-metaphorical substance?
Strictly speaking, the bugs in the photo are sipping the tears of a spectacled caiman, a closely related member of order Crocodilia.
Question 4
of 12
Afghanistan suffered its worst natural disaster on record Friday, when what calamity killed 2,100 people?
Much of the remote village of Abi Barak was buried in the landslide, with no hope of rescue.
Question 5
of 12
On Monday, what was called "a living hell" and "a tundra of a human being's rights"?
Kim Jong-un's news service released the scathing indictment in retaliation for a U.N. report criticizing North Korea's abysmal human rights record.
Question 6
of 12
A California school district has been criticized for assigning eighth graders to argue what burning question?
Students were asked to explain whether the Holocaust was, or was not, "merely a political scheme create to influence public emotion and gain wealth."
Question 7
of 12
The United Nations announced an international health emergency this week due to the resurgence of what?
The number of polio cases worldwide was down to just 417 last year, but now seven new countries have recently been reinfected.
Question 8
of 12
On Sunday, what mishap resulted in 17 medical operations, five open fractures, a lacerated liver, and two spinal injuries?
The acrobats performing the "human chandelier" routine when the apparatus collapsed have all, miraculously, survived.
Question 9
of 12
Both Coke and Pepsi announced this week they will no longer be using what unusual ingredient in their beverages?
Though patented as a flame retardant, brominated vegetable oil is more commonly used as an emulsifier in the U.S. The soda companies faced public pressure to remove the ingredient, but it has not been shown to be dangerous to human health.
Question 10
of 12
The Supreme Court ruled 5-4 this week to allow regular Christian prayer where?
The court overturned a lower court ruling that prayers at town meetings in Greece, New York were unconstitutionally sectarian.
Question 11
of 12
"It's time to burn the beret," writes what famed beret-wearer in the new Vanity Fair this week?
It's the first time she's written about the 1996 affair that nearly brought down the Clinton presidency.
Question 12
of 12
A New Yorker named Jonah Falcon accepted an invitation from Iceland to donate what to a specialty museum there?
Falcon starred in a 2006 documentary about his 13.5-inch endowment. Flattered by the offer, he wrote to the museum, "May I suggest you call the exhibit 'Jonah and the Whale.' "

May 9, 2014


Anonymous User
Log in to track your scores!
vs.

Dan Kois
Slate senior editor
The Ukrainian separatist movement
The political unrest in Thailand
The kidnapped Nigerian girls
An underground propane geyser
"Water off a duck's back"
The U.S., according to North Korea
Joel McHale's set at the Correspondents' Dinner
Should guns be allowed in school?
Do all colors of Froot Loops taste the same?
Did the Holocaust happen?
An oil tanker train derailment
A collision at the Kentucky Derby
A Ringling Bros. circus accident
A patented fire retardant

Average
0 points

You
0 points


Dan Kois
Slate senior editor
0 points
Answer quickly to earn more points!
Quiz Template by Chris Kirk and Andrew Morgan
Update, May 9, 2014: Question 9 has been updated to make more clear that brominated vegetable oil has not been shown be a danger to human health.