Play the Slate News Quiz
With Jeopardy! superchampion Ken Jennings.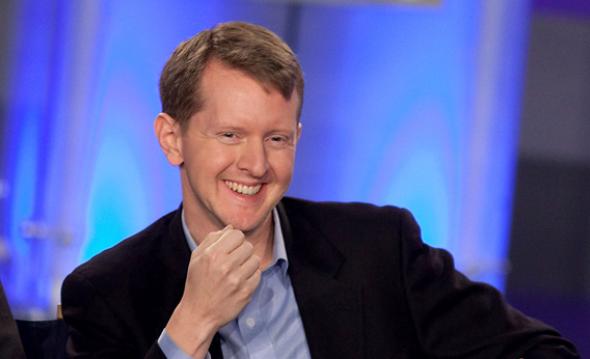 Welcome back to Slate's weekly news quiz. I'm your host, 74-time Jeopardy! winner Ken Jennings.

Every Friday I'll be testing your knowledge with 12 challenging questions on the week's news events, big and small, including happenings in science, sports, politics, and culture both high and low. The questions are multiple choice, and time is of the essence: You have 30 seconds to answer, and as the seconds tick away, the question's point value drops from 50 all the way down to zero, so you'll want to click on your answer as fast as you possibly can. There's no penalty for an incorrect answer, so feel free to take a guess if your puny human brain fails you.

At the end of the quiz, you'll be able to compare your score with that of the average contestant, as well as to the score of a Slate-ster whom I've talked into taking the quiz on the record. This week's contestant is Slate's senior economics and business correspondent, Jordan Weissmann.
Think you can ace my quiz and beat Weissmann? Good luck!

The Slate Quiz with quizmaster Ken Jennings


The world's fastest animal, researchers announced this week, is not the cheetah. Paratarsotomus macropalpis, a tiny species of mite native to California, is much faster—if you measure speed in terms of body lengths. The tiny arachnid can run at a speed of 322 body lengths per second, roughly 50 times as "fast" as Usain Bolt. Tall readers can rest easy: We'll pay no mind to body length when rating your speed on this week's news quiz.
Question 1
of 12
On Monday, the U.S. unveiled a new round of sanctions against seven people and 17 organizations from whose inner circle?
Question 2
of 12
The rapper and producer Soulja Boy has mounted a petition drive to protest what being taken off the market last week?
The pharmaceutical company Actavis announced it will no longer be selling promethazine codeine, the active ingredient in the popular hip-hop concoction.
Question 3
of 12
In a new study published this week in Nature Methods, scientists were surprised to find that mice are not afraid of what?
The finding—that mice fear men but not women—is a big deal, because it could cast doubt on years of other research using lab mice.
Question 4
of 12
About 220 girls are reportedly being sold to Islamic extremists for $12 each after being kidnapped from their secondary school in what country?
The terrorist group Boko Haram has been targeting schools in northeastern Nigeria since the early 2000s.
Question 5
of 12
A middle school teacher in Houston has been arrested after giving a student what as a birthday present?
Felicia Smith, 42, says the boy's classmates persuaded her to perform the full-contact four-minute routine.
Question 6
of 12
Oklahoma lawmakers this week tried to impeach the state Supreme Court for attempting to delay what?
One of the executions proceeded on Tuesday using an unproven drug cocktail, but the botched procedure led to a stay of execution for the second inmate.
Question 7
of 12
What caused a rampage of mayhem and destruction in six states from Iowa to Alabama this week?
Question 8
of 12
In the past eight days, judges have struck down laws in both Wisconsin and Arkansas that would have required what?
Question 9
of 12
According to the Donald Sterling recording, which of these should you not do with black people?
Sterling received a lifetime ban from the NBA on Tuesday for the outrageous opinions revealed on the recording.
Question 10
of 12
A computer club at Carnegie Mellon has salvaged what remarkable find from a stash of unlabeled 25-year-old floppy disks?
Warhol produced the never-before-seen digital images on the Commodore Amiga, a personal computer for which he was a spokesman in the 1980s.
Question 11
of 12
A new Gallup poll this week found that 62 years—an all-time high—is now the average age of what?
Gallup noted that the increase may be due to reluctance to retire or the Great Recession.
Question 12
of 12
Librarians in Toronto have been pressed to ban which Dr. Seuss book?
The text "encourages children to use violence against their fathers," said the complainant, who demanded an apology and damages.

May 2, 2014


Anonymous User
Log in to track your scores!
vs.

Jordan Weissmann
Slate's senior business correspendent
The Obamacare birth control mandate
Miley Cyrus' Bangerz tour
An unreleased Queen single
The cause of the Challenger explosion
The first AOL instant messages
The Lorax, which offended logging companies
How the Grinch Stole Christmas, which offended atheists
Hop on Pop, which offended fathers' rights groups
Green Eggs and Ham, which offended vegans

Average
0 points

You
0 points


Jordan Weissmann
Slate's senior business correspendent
0 points
Answer quickly to earn more points!
Quiz Template by Chris Kirk and Andrew Morgan