Play the Slate News Quiz
With Jeopardy! superchampion Ken Jennings and special contestant John Hodgman!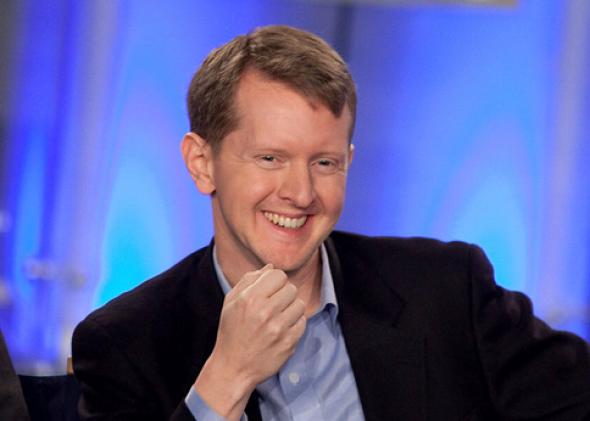 Welcome back to Slate's weekly news quiz. I'm your host, 74-time Jeopardy! winner Ken Jennings.
Every Friday I'll be testing your knowledge with 12 challenging questions on the week's news events, big and small, including happenings in science, sports, politics, and culture both high and low. The questions are multiple-choice, and time is of the essence: You have 30 seconds to answer, and as the seconds tick away, the question's point value drops from 50 all the way down to zero, so you'll want to click on your answer as fast as you possibly can. There's no penalty for an incorrect answer, so feel free to take a guess if your puny human brain fails you.
At the end of the quiz, you'll be able to compare your score with that of the average contestant, as well as to the score of a special contestant I've talked into taking the quiz on the record. All this month we'll be featuring a few of our favorite funny people, and this week's contestant is author, actor, and humorist John Hodgman. He is also the host of the Judge John Hodgman podcast, and his most recent book is That Is All.
Think you can ace my quiz and beat Hodgman? Good luck!

The Slate Quiz with quizmaster Ken Jennings
Some of the outlandish news this week, like Google's new app that would make David Hasselhoff appear in all your photos, turned out to be April Fools' jokes. But not all. The sheep in the Louvre? The Nicolas Cage art show? The California state senator accused of running guns to a criminal named "Shrimp Boy"? All true. Let's see if you can tell the real news from the fake news on this week's Slate Quiz.
Question 1
of 12
On Wednesday, in a 5-4 decision, the Supreme Court struck down federal limits on what?
After the ruling in McCutcheon v. FEC, donors will be able to give as much as $3.6 million in a single election cycle—or, as the Koch brothers call it, "rounding error."
Question 2
of 12
As of Monday, Las Vegas now has the world's tallest what, topping one in Singapore by 9 feet?
The brand-new observation wheel on the Las Vegas strip, the High Roller, is 550 feet tall.
Question 3
of 12
Last weekend, what tragedy killed 251 Congolese citizens who had sought safe haven in Uganda?
Their crowded boat capsized as it crossed Lake Albert, where it was carrying refugees home from Uganda to the Democratic Republic of Congo.
Question 4
of 12
A woman with the appropriate name of Cameo Crispi was arrested this week in Utah on what charges?
Ms. Crispi allegedly broke into an ex-boyfriend's house and then allegedly tried to burn it down by leaving a pound of bacon frying on the stove.
Question 5
of 12
Almost 1 million people were evacuated Tuesday after an 8.2-magnitude earthquake led to tsunami warnings in what nation?
Question 6
of 12
A Pittsburgh-area middle schooler calculated for a science fair project that the U.S. government could save $400 million every year by doing what?
A typeface called Garamond is just as legible as Times New Roman, 14-year-old Suvir Mirchandani pointed out, but uses about 24 percent less ink.
Question 7
of 12
John Kerry attended four hours of urgent talks in Paris on Sunday in hopes of easing the border tension where?
Russia has withdrawn one battalion but still has tens of thousands of troops massed at the Ukrainian border.
Question 8
of 12
The new U.N. report on climate change emphasized, for the first time, that which of these could be a frightening side effect of global warming?
For the first time, the IPCC report included a chapter on human security, warning that climate change increases the risks of political instability and war.
Question 9
of 12
In a groundbreaking procedure, Dutch surgeons replaced almost all of a young woman's skull with a new skull from where?
The woman is back at work with her plastic skull and "almost no traces that she had any surgery at all."
Question 10
of 12
As of the last day of March, 7.1 million Americans had signed up for what?
In a surprising victory, the number, announced by President Obama, met the White House's original goal for enrollment.
Question 11
of 12
Which of these legislative hurdles is threatening South Carolina's bid to select a new state symbol?
State senator Kevin Bryant has twice tried to amend the bill to credit God with the creation of the Columbian mammoth "on the sixth day, with the beasts of the field."
Question 12
of 12
As a punishment from his friends, a Norwegian teenager agreed to get what unusual tattoo on his right forearm?
On that fateful night, 18-year-old Stian Ytterdahl ordered a Coke, three cheeseburgers, a McFlurry, and a lifetime of regret.
April 4, 2014
Anonymous User
Log in to track your scores!
vs.

John Hodgman
Author and humorist
Eating endangered crickets
Selling meth in breakfast cereal boxes
Taking her 9-year-old to tanning salons
Attempted arson using bacon
Changing the font on its documents
Adding one day to February
Reviving the $10,000 bill
Texting the State of the Union
Movies where Russell Crowe plays Noah
Creationists opposing the State Fossil
Vegans opposing the State Grilled Meat
African-Americans opposing the State "Negro Spiritual"
Libertarians opposing the State Anything
A McDonald's dinner receipt
A picture of his left forearm
Average
0 points
You
0 points

John Hodgman
Author and humorist
0 points
Answer quickly to earn more points!
Quiz Template by Chris Kirk and Andrew Morgan