Play the Slate News Quiz
With Jeopardy! superchampion Ken Jennings.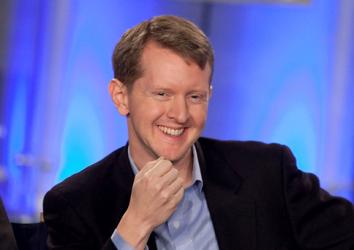 Welcome back to Slate's weekly news quiz. I'm your host, 74-time Jeopardy! winner Ken Jennings.
Every Friday I'll be testing your knowledge with 12 challenging questions on the week's news events, big and small, including happenings in science, sports, politics, and culture both high and low. The questions are multiple choice, and time is of the essence: You have 30 seconds to answer, and as the seconds tick away, the question's point value drops from 50 all the way down to zero, so you'll want to click on your answer as fast as you possibly can. There's no penalty for an incorrect answer, so feel free to take a guess if your puny human brain fails you.
At the end of the quiz, you'll be able to compare your score with that of the average contestant, as well as to the score of a Slate-ster whom I've talked into taking the quiz on the record. This week's contestant is Slate's editorial director, John Swansburg.
Think you can ace my quiz and beat Swansburg? Good luck!
The Slate Quiz with quizmaster Ken Jennings
In New Brunswick, Canada, last week, hundreds of acres of private land were donated to the Moose Sex Project, a planned wildlife corridor to help the area's moose get it on in privacy. On the same day, the Canadian government put three X-rated channels on notice for showing porn that was insufficiently Canadian. Why all the sex hang-ups, Canada? Channel your frustration into this week's Slate News Quiz, eh?
Question 1
of 12
"My hope is that ... there will be a rethinking of the process that has been put forward," said President Obama on Wednesday, in remarks obviously directed at whom?
"There's another path available, and we hope President Putin is willing to seize that path," said Obama of the Crimean crisis after meeting with Ukraine's interim prime minister.
Question 2
of 12
What disaster in New York's East Harlem neighborhood left seven people dead and more than 60 injured on Thursday morning?
Question 3
of 12
In New York City on Monday, what did the pizza chain Sbarro do for the second time in the last three years?
Question 4
of 12
The library at Harvard is looking to hire a new assistant curator to be the university's resident expert on what?
The university's official "Wikipedian-in-Residence" will only make $16 an hour, but that's a big raise for most Wikipedia editors.
Question 5
of 12
Who won the annual straw poll for president this week at CPAC, the Conservative Political Action Conference?
Paul won 31 percent of the vote, crushing Sen. Ted Cruz (11 percent), former neurosurgeon Ben Carson (9 percent), and New Jersey Gov. Chris Christie (8 percent).
Question 6
of 12
On Tuesday, Michelle Bachelet was sworn in as president of which nation, which she had previously led from 2006 to 2010?
Question 7
of 12
If the European Union gets its way, American producers might no longer be allowed to sell which of these?
The EU has requested that Americans stop using European cheese names. Under the proposed rules, only cheese made in Parma, Italy, could be called "Parmesan."
Question 8
of 12
Facebook COO Sheryl Sandberg launched a new campaign this week aimed at banning what word?
The word is disproportionately used for girls, Sandberg points out; boys with the same traits might be praised as "strong" or "determined."
Question 9
of 12
Christian Kozel of Austria and Luigi Maraldi of Italy surprised investigators this week by not having done what?
Both were announced as passengers aboard the missing flight. In fact, their passports had each been lost or stolen in Phuket, Thailand, months ago.
Question 10
of 12
Who won Monday's legislative "election" with a remarkable 100 percent of all votes cast, and not even a single abstention?
In North Korea, of course, voting is mandatory, and Kim's is the only name on the ballot.
Question 11
of 12
What was legal in the state of Massachusetts last week for just 36 hours?
The day after the state Supreme Court ruled that existing privacy laws don't ban upskirt photos, lawmakers crafted new legislation specifically to criminalize the practice.
Question 12
of 12
A Portland, Ore., family called 911 on Sunday after being trapped in their bedroom by what?
The pet has a "history of violence" and had attacked their baby. The family plans to get therapy for the troubled Himalayan.
March 13, 2014
Anonymous User
Log in to track your scores!
vs.

John Swansburg
Slate's editorial director
A Reagan-shaped gun rack wearing an American flag bandana
Met personally with Edward Snowden
Graduated from medical school
Boarded Malaysia Airlines Flight 370
Received their medals from Sochi
The overpowering smell of lemon
An "avalanche" of Christmas decorations
Average
0 points
You
0 points

John Swansburg
Slate's editorial director
0 points
Answer quickly to earn more points!
Quiz Template by Chris Kirk and Andrew Morgan