Play the Slate News Quiz
With Jeopardy! superchampion Ken Jennings.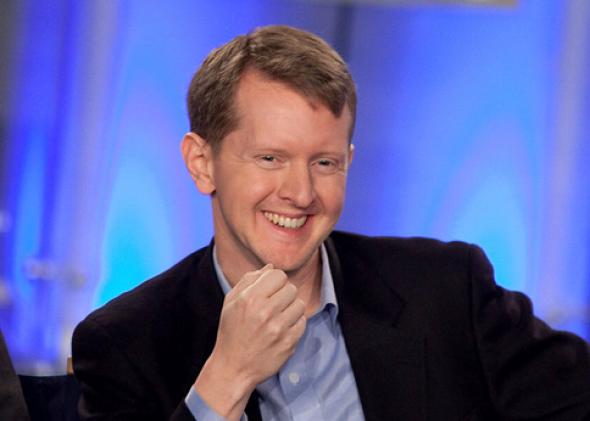 Welcome back to Slate's weekly news quiz. I'm your host, 74-time Jeopardy! winner Ken Jennings.
Every Friday I'll be testing your knowledge with 12 challenging questions on the week's news events, big and small, including happenings in science, sports, politics, and culture both high and low. The questions are multiple-choice, and time is of the essence: You have 30 seconds to answer, and as the seconds tick away, the question's point value drops from 50 all the way down to zero, so you'll want to click on your answer as fast as you possibly can. There's no penalty for an incorrect answer, so feel free to take a guess if your puny human brain fails you.
At the end of the quiz, you'll be able to compare your score with that of the average contestant, as well as to the score of a Slate-ster whom I've talked into taking the quiz on the record. This week's contestant is Julia Turner, Slate's deputy editor and a regular on the Culture Gabfest podcast.
Think you can ace my quiz and beat Turner? Good luck!


The Slate Quiz with quizmaster Ken Jennings
The College Board announced big changes to the SAT this week: no essay requirement, no penalty for wrong answers, and a return to the iconic "1600" perfect score. A perfect score on the Slate news quiz, however, will remain 12 for 12. We tinker with our test a lot less, so it's obviously a more meaningful marker of intelligence. Please grab a No. 2 pencil and begin.
Question 1
of 12
What can not be found in the Crimea, Russian leaders were claiming as late as Wednesday?
Photos of the occupation forces have been circulating all week. "Complete nonsense," said Russia's defense minister.
Question 2
of 12
Under new rules to be implemented in April, all climbers on Mount Everest will be required to do what?
Discarded equipment from past expeditions now litters the peak.
Question 3
of 12
Who actually took the star-studded front-row selfie at the Oscars that shattered the Twitter retweet record this week?
The photo has been retweeted over 2 million times. This demolishes the previous record, a lowly 780,000 retweets, set by Barack Obama (who?) on election night 2012.
Question 4
of 12
What country moved its legislature into a five-star hotel on Monday, the day after dozens of protestors swarmed parliament and set fire to parts of the building?
Question 5
of 12
District of Columbia lawmakers voted Tuesday to decriminalize what in the nation's capital?
Once the mayor signs the bill, possession of less than an ounce of pot will become a civil infraction punishable only by a fine of up to $25.
Question 6
of 12
Sulaiman Abu Ghaith, who went on trial this week in Manhattan, is the son-in-law of what notorious figure?
Abu Ghaith has plead not guilty to charges including conspiracy to kill Americans after the 9/11 attacks.
Question 7
of 12
A new study published Tuesday in the journal Cell Metabolism claimed that what can be just as unhealthy as smoking?
Question 8
of 12
Rachel Canning, a New Jersey high school senior, took her parents to court this week hoping to force them to do what?
A judge denied the request from the teen, whom an independent investigator called "spoiled."
Question 9
of 12
Officials announced Wednesday that the most unpopular provisions of what will not take effect until after the 2016 elections?
Mid-sized employers will be able to keep their employees on plans that don't comply with Obamacare until October 2017, the Treasury Department announced.
Question 10
of 12
In what can't be a good sign for the economy, IBM's once-mighty supercomputer Watson was last spotted doing what?
Watson used its Jeopardy!-proved algorithms to design a "gourmet fusion" menu at a Las Vegas tech conference.
Question 11
of 12
Which Islamist insurgency has killed over 150 Nigerians in attacks over the past week?
Question 12
of 12
On Saturday, a Houston man stabbed a romantic rival with what unusual weapon of choice?
While the sword was only a replica, both men were injured in the fight.
March 7, 2014
Anonymous User
Log in to track your scores!
vs.

Julia Turner
Slate's deputy editor
Donate a yak to local crime lords
Pray to Nepalese snow gods
Bring back 17 pounds of trash
Kevin Spacey's accent in House of Cards
Trash collection at carnivals
"Geek Squad" tech support
Average
0 points
You
0 points

Julia Turner
Slate's deputy editor
0 points
Answer quickly to earn more points!
Quiz Template by Chris Kirk and Andrew Morgan