The Slate News Quiz, Sochi 2014 Edition
With Jeopardy! superchampion Ken Jennings.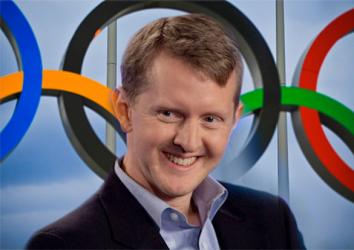 Welcome to a special Olympics edition of Slate's weekly news quiz. I'm your host, 74-time Jeopardy! winner Ken Jennings.
Every Friday I'll be testing your knowledge with 12 challenging questions on the week's news events, big and small. The questions are multiple-choice, and time is of the essence: You have 30 seconds to answer, and as the seconds tick away, the question's point value drops from 50 all the way down to zero, so you'll want to click on your answer as fast as you possibly can. There's no penalty for an incorrect answer, so feel free to take a guess if your puny human brain fails you.
At the end of the quiz, you'll be able to compare your score with that of the average contestant, as well as to the score of a Slatester whom I've talked into taking the quiz on the record. This week's contestant is Stefan Fatsis, the author of Word Freak and A Few Seconds of Panic, and a panelist on Slate's sports podcast, Hang Up and Listen.
Think you can ace my quiz, beat Fatsis, and achieve Olympics trivia glory? Good luck!


The Slate Quiz with quizmaster Ken Jennings
The Winter Olympics are traditionally much less splashy than their warmer-weather counterpart, making them the Art Garfunkel or the Andrew Ridgeley of the Summer-Winter Olympics duo. But this year's games, in Sochi, will be operating in a whole new level of weirdness, from the subtropical locale to the feral dogs roaming the streets to Russia's new anti-gay law. Even if you're boycotting the Sochi Games, you can try out this special Winter Olympics version of the Slate Quiz. (Putin and his cronies won't see a penny.)
Question 1
of 12
How has Hubertus von Hohenloe, a 55-year-old German prince and pop singer, said he will celebrate the fact that he's skiing for Mexico in these games?
NBC has dubbed the eccentric aristocrat "the Most Interesting Olympian in the World."
Question 2
of 12
At this year's winter games, women will, for the first time, compete in what event?
Question 3
of 12
The Sochi Olympic mascots are a polar bear, a hare, and a leopard. The very first Olympic mascot, a skier named Schuss from the Grenoble games in France, was criticized for its close resemblance to what?
Question 4
of 12
Eighteen-year-old Mikaela Shiffrin, one of the stars of Team USA, always competes with the letters "ABFTTB" on her helmet. What does this stand for?
It's something that her hero, U.S. skier Heidi Voelker, told her as a little girl.
Question 5
of 12
Tonga's first Winter Olympian will be the luger once known as Fuahea Semi. Why did he change his name in 2008 to "Bruno Banani"?
The IOC has called the name change a "perverse" marketing idea but has been unable to prevent him from competing under his new legal name.
Question 6
of 12
Sochi's mayor, Anatoly Pakhomov, raised eyebrows last week when he told the BBC that his city had no what?
In fact, locals say, Sochi has many gay clubs, including Take Zerkala, Oblaka, and Mayak.
Question 7
of 12
Which of the following is not a real sport that's been played at the Winter Olympics?
Question 8
of 12
One of the brakemen on the U.S. women's bobsled team is already well-known for her previous Olympic appearances in what other event?
Lolo Jones, the photogenic track star who failed to medal at Beijing and London, took up bobsledding in 2008.
Question 9
of 12
Which of these places has the Olympic torch not visited en route to Sochi?
The torch never went down into the 40,000-foot "SG-3" borehole near Murmansk, presumably out of fear of "mole men."
Question 10
of 12
What nation, which has won a record 303 Winter Olympics medals in its history, is considered a heavy favorite by oddsmakers to lead the Sochi medal tally as well?
Norway is expected to dominate in sports like biathlon and cross-country skiing.
Question 11
of 12
The U.S. women's national figure skating champion, competing in her first Olympics in Sochi, has what auspicious last name?
Gracie Gold, of Chicago, is being promoted as the new American face of the games after a knee injury benched skiing star Lindsey Vonn.
Question 12
of 12
It's estimated that the Sochi Olympics will end up costing $51 billion. Which of the 21 previous Winter Games were staged, in total, for roughly that same amount?
The Sochi games will cost more than every previous Winter Olympics put together, according to the calculations of Dutch newspaper NRC.
February 7, 2014
Anonymous User
Log in to track your scores!
vs.

Stefan Fatsis
Panelist on Slate's Hang Up and Listen
He will take a shot of tequila after every race
He will ski in a skintight mariachi suit
He will wax his skis with chorizo fat
He will paint a mural of himself as the Aztec god Tlaloc
Arms Back, Fly to the Bottom
A Big Finish, Then Turn Back
And Being First Takes the Best
Always Be Faster Than the Boys
His Tongan name is a kind of stinky fish paste
To avoid criminal charges of bigamy back home
To advertise a German underwear company of that name
To pay homage to an Italian character from Entourage
Yupik, an igloo-building contest
Glima, a type of Icelandic wrestling
Bandy, a cross between soccer and hockey
Skijoring, in which skiers are pulled by horses
Europe's highest mountain
The world's deepest borehole
Average
0 points
You
0 points

Stefan Fatsis
Panelist on Slate's Hang Up and Listen
0 points
Answer quickly to earn more points!
Quiz Template by Chris Kirk and Andrew Morgan