Play the Slate News Quiz
With Jeopardy! superchampion Ken Jennings.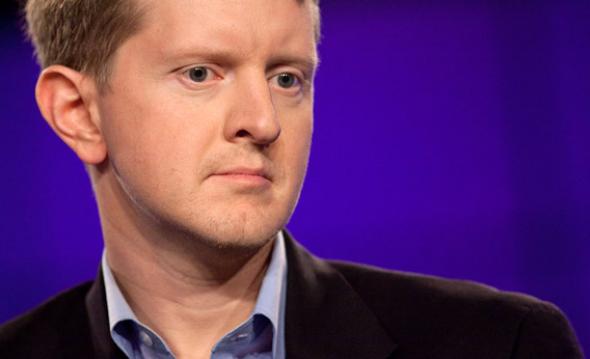 Every Friday I'll be testing your knowledge with 12 challenging questions on the week's news events, big and small, including happenings in science, sports, politics, and culture both high and low. The questions are multiple-choice, and time is of the essence: You have 30 seconds to answer, and as the seconds tick away, the question's point value drops from 50 all the way down to zero, so you'll want to click on your answer as fast as you possibly can. There's no penalty for an incorrect answer, so feel free to take a guess if your puny human brain fails you.
At the end of the quiz, you'll be able to compare your score with that of the average contestant, as well as to the score of a Slate-ster whom I've talked into taking the quiz on the record. This week's contestant is Jacob Weisberg, chairman and editor-in-chief of the Slate Group and author of The Bush Tragedy.
Think you can ace my quiz and beat Weisberg? Good luck!

The Slate Quiz with quizmaster Ken Jennings
If you are a sensitive soul, stay far away from the news this week. Pope Francis released two "peace doves" in St. Peter's Square—which were promptly attacked by a crow and a seagull. A British woman donated a kidney to her husband—only to have him cheat on her. Worst of all, Motley Crue announced it was breaking up, after 33 years together. Try to pull yourself together for long enough to take the weekly Slate Quiz.
Question 1
of 12
A round of newly published NSA documents leaked by Edward Snowden revealed this week that the NSA could be collecting personal data by monitoring what?
The documents show that the NSA and its British counterparts could tap into mobile apps like Angry Birds to trace where users traveled and more.
Question 2
of 12
Negotiators from both houses of Congress ended a two-year impasse this week when they struck a deal on what issue?
The new bill cuts food stamps by $8 billion and authorizes almost $1 trillion in nutrition programs and farm subsidies.
Question 3
of 12
According to a new study by Merritt Hawkins, what now takes Americans an average of 18.5 days?
A shortage of health care providers means that new patients are waiting over a month in some markets. In Boston, the average wait is 45 days.
Question 4
of 12
What country's head of state separated from his first lady on Saturday after a tabloid reported that he's been in a "turbulent romance" with an actress for two years?
Francois Hollande has allegedly been riding his motor scooter to secret rendezvous with film and TV star Julie Gayet, a revelation that hospitalized his longtime partner, Valerie Trierweiler.
Question 5
of 12
Which of these modern presidents has signed by far the fewest executive orders?
Obama's executive orders became a flashpoint after his State of the Union address, but his 168 orders (so far) number far fewer than Reagan's 381, Clinton's 364, and Bush's 291.
Question 6
of 12
Eric Lawson died at age 72 in California, making him at least the third person in what group to have died of lung disease?
Lawson, who modeled as the rugged cowboy in 1970s ads, became an anti-smoking advocate later in life but was unable to kick the habit himself.
Question 7
of 12
A buildup of deadly farts and static electricity from a massage machine led to a massive fire where?
Of the 90 flatulent cows whose intestinal gases led to the incident, only one was seriously burned.
Question 8
of 12
Who is down to a historic low of $1.6 million in their emergency reserve fund, according to the Public Accounts Committee on Tuesday?
The royal household outspent its budget by $3.8 million last year. Lawmakers have suggested further opening Buckingham Palace to tourists to make up the shortfall.
Question 9
of 12
What country's prime minster and Cabinet resigned Tuesday, as the government's draconian anti-protest laws were annulled by parliament?
Question 10
of 12
What was the only object stolen when thieves broke into the home of Michael "Lord of the Dance" Flatley this week?
The horn may be worth as much as $250,000. The rhino is not a suspect.
Question 11
of 12
After 22 deaths so far this year, what has the city of Shanghai decided to ban for three months?
China has confirmed 110 human cases of H7N9 bird flu, leading to live-chicken bans in Shanghai and Hong Kong.
Question 12
of 12
Three of these quotes were spoken by Rep. Michael Grimm to a NY1 reporter at the State of the Union, and one is from Richard Sherman's infamous postgame interview. Which is Sherman, not Grimm?
January 31, 2014
Anonymous User
Log in to track your scores!
vs.

Jacob Weisberg
Chairman of The Slate Group
The wait time to see a city doctor
A Chicago apartment complex
A Royal Caribbean cruise ship
The United Nations Secretariat
The Detroit public school system
A first edition of Ulysses
"Don't you ever talk about me."
"I'll throw you off this f---ing balcony."
"I'll break you in half. Like a boy."
Average
0 points
You
0 points

Jacob Weisberg
Chairman of The Slate Group
0 points
Answer quickly to earn more points!
Quiz Template by Chris Kirk and Andrew Morgan