Play the Slate News Quiz
With Jeopardy! superchampion Ken Jennings.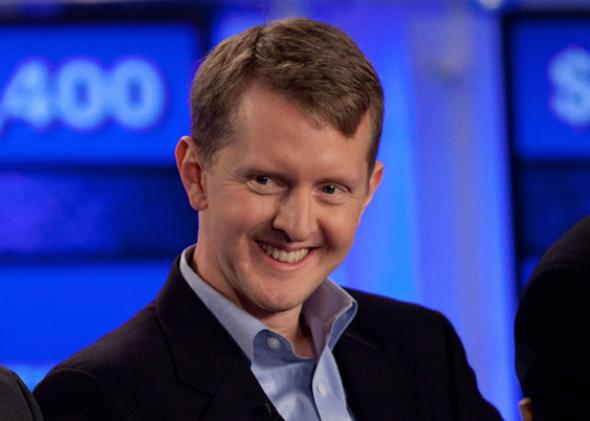 Welcome back to Slate's weekly news quiz. I'm your host, 74-time Jeopardy! winner Ken Jennings.
Every Friday I'll be testing your knowledge with 12 challenging questions on the week's news events, big and small, including happenings in science, sports, politics, and culture both high and low. The questions are multiple-choice, and time is of the essence: You have 30 seconds to answer, and as the seconds tick away, the question's point value drops from 50 all the way down to zero, so you'll want to click on your answer as fast as you possibly can. There's no penalty for an incorrect answer, so feel free to take a guess if your puny human brain fails you.
At the end of the quiz, you'll be able to compare your score with that of the average contestant, as well as to the score of a Slatester whom I've talked into taking the quiz on the record. This week's contestant is Slate's chief political correspondent, John Dickerson.
Think you can ace my quiz and beat Dickerson? Good luck!
The Slate Quiz with quizmaster Ken Jennings
A Rhode Island middle school this week warned parents that their kids have discovered a dangerous new drug habit: snorting Smarties candy. The email even warns of grisly Smarties side effects, like nasal maggots. The scare, which has spread nationwide, seems to be a result of a 10-year-old email hoax—but you can never be too careful when it comes to nose maggots. If you're a Smartie who's taken a sharp eye to this week's stories, you should ace this week's Slate News Quiz.
Question 1
of 12
What city saw a 21 percent increase in Internet searches for hotel bookings following Sunday's AFC championship game?
Denver Broncos quarterback Peyton Manning used the audible call "Omaha" 44 times in the game, apparently sparking the curiosity of home viewers.
Question 2
of 12
A $19,000 New York shopping spree at Oscar de la Renta, Louis Vuitton, and Bergdorf Goodman is just one highlight of this week's 43-page indictment against whom?
Question 3
of 12
Security officials are seeking as many as four suspected "black widow" suicide bombers, women who have allegedly planned attacks where?
Question 4
of 12
President Nicolas Maduro has announced plans to change what in Venezuela, for the first time in almost 20 years?
Gas costs only 6 cents a gallon in oil-rich Venezuela, due to heavy government subsidies, according to an article in the New York Times this week.
Question 5
of 12
Last Friday, a suicide bombing claimed 21 lives at a popular Lebanese restaurant in what world capital?
Question 6
of 12
In a fiery address in Switzerland on Wednesday, who angrily denounced the assembled nations as "interlopers" with "blood on their hands" who live in "mud and backwardness"?
Question 7
of 12
South Africa is up in arms after what problem was discovered with the 30-foot bronze statue of Nelson Mandela erected after his funeral?
"We don't think it's appropriate because Nelson Mandela never had a rabbit on his ear," said a spokesperson. (The sculptors included it as their signature.)
Question 8
of 12
The U.S. military has announced plans to let troops wear what?
Yarmulkes, turbans, headscarves, and even beards will be allowed with service uniforms, when worn for religious purposes.
Question 9
of 12
Government regulators announced a new test this week that will make child car seats safer from what?
The change has been under consideration by the National Highway Traffic Safety Administration for more than a decade.
Question 10
of 12
In Campomoro, Italy, what unusual honor was given to Pope Francis?
"I did not know I was pregnant," insisted the Salvadoran nun—and new mother to little Francesco. "I only felt a stomach pain."
Question 11
of 12
A Sunnyvale, Calif.-based company has begun Web sales of what 3-D-printed product?
The company can produce a plastic doll based on sonogram photos—either yours, or those of a celebrity baby, like Kim and Kanye's.
Question 12
of 12
Vincent Asaro, of Queens, N.Y., was arrested this week in connection with a 36-year-old heist immortalized in what movie?
Asaro has been linked to the 1978 "Lufthansa heist" at JFK airport, in which mobsters got away with $6 million in currency and jewelry.
January 24, 2014
Anonymous User
Log in to track your scores!
vs.

John Dickerson
Slate's chief political correspondent
Former Virginia Gov. Bob McDonnell
Former San Diego Mayor Bob Filner
Former Arizona Rep. Rick Renzi
Former Chicago Alderman Sandi Jackson
The Burmese embassy in Jakarta
An anti-terrorism conference in Baghdad
Portraits on postage stamps
The Syrian foreign minister
Ukraine's opposition leader
He is modeled on Morgan Freeman
He has a rabbit in his ear
Foreign military decorations
He was named an honorary city bus driver
He received a lifetime supply of free olive oil
A nun's baby was named for him
His face was carved into a glacier
Average
0 points
You
0 points

John Dickerson
Slate's chief political correspondent
0 points
Answer quickly to earn more points!
Quiz Template by Chris Kirk and Andrew Morgan