Play the Slate News Quiz
With Jeopardy! superchampion Ken Jennings.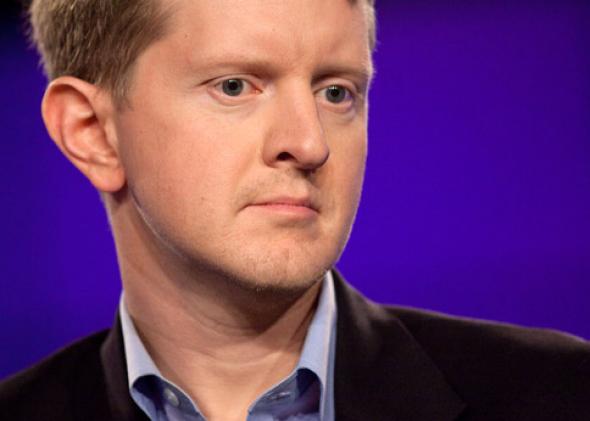 Welcome back to Slate's weekly news quiz. I'm your host, 74-time Jeopardy! winner Ken Jennings.
Every Friday I'll be testing your knowledge with 12 challenging questions on the week's news events, big and small, including happenings in science, sports, politics, and culture both high and low. The questions are multiple-choice, and time is of the essence: You have 30 seconds to answer, and as the seconds tick away, the question's point value drops from 50 all the way down to zero, so you'll want to click on your answer as fast as you possibly can. There's no penalty for an incorrect answer, so feel free to take a guess if your puny human brain fails you.
At the end of the quiz, you'll be able to compare your score with that of the average contestant, as well as with the score of a Slatester whom I've talked into taking the quiz on the record. This week's contestant is Slate political reporter David Weigel.
Think you can ace my quiz and beat Weigel? Good luck!

The Slate Quiz with quizmaster Ken Jennings
Grease is the word! In Australia this week, a naked man was trapped inside his top-load washing machine for 20 minutes when he hid there to scare his girlfriend. Firefighters removed him by lubing him up with olive oil. Meanwhile, in the (much chillier) Northern Hemisphere, U.S. butter sales hit a 40-year high. Beware: Some of the questions on this week's Slate News Quiz are just as slippery.
Question 1
of 12
On Wednesday, which of these news stories proved a substantial setback for New Jersey Gov. Chris Christie?
"Time for some traffic problems in Fort Lee," a top Christie aide wrote in an email, after the borough's mayor refused to endorse the governor during last year's re-election campaign.
Question 2
of 12
During the past week, which city has been taken over by ISIS, an Islamist militant group affiliated with al-Qaida?
Question 3
of 12
Which of these was not one of the surprising results of the "polar vortex" over the Midwest this week?
Question 4
of 12
A town council member in Indian Trail, N.C., made national headlines by submitting his resignation how?
"Chaq DaHjaj QaQ jaj paj," wrote David Waddell. As you probably know, this is Klingon for "Perhaps today is a good day to resign."
Question 5
of 12
According to a new book, President Obama was "skeptical" about what, "if not outright convinced it would fail"?
The book is Duty: Memoirs of a Secretary at War by former Defense Secretary Robert Gates.
Question 6
of 12
After a fatal shark attack in November, Western Australia has fought back by doing what to 338 sharks?
The sharks each wear an acoustic transmitter, set up to tweet followers when one gets within half a mile of the beach.
Question 7
of 12
What song did Dennis Rodman sing to North Korean dictator Kim Jong-un on Wednesday?
Rodman is back in North Korea with a group of fellow former NBA players to celebrate his "good friend" Kim's birthday.
Question 8
of 12
A Harvard professor says he can use valprioc acid, a mood-stabilizing drug, to create what condition in subjects?
"It's quite remarkable since there are no known reports of adults acquiring absolute pitch," says biologist Takao Hensch.
Question 9
of 12
This week, the Obama administration released the first federal guidelines aimed at reducing racial disparities in treatment of whom?
"Students of color ... are disproportionately impacted" by suspensions and expulsions, wrote the Justice Department about the recommendations.
Question 10
of 12
In a canny marketing move, burritos are now being sold from where?
The Burrito Box is a Redbox-like innovation currently popping up at gas stations in West Hollywood and Century City.
Question 11
of 12
In which country was a court summons extended to Princess Cristina on Tuesday in an ongoing embezzlement and money-laundering investigation?
Cristina's husband, retired handball player Inaki Urdangarin, has faced fraud charges for several years, but this marks the first time the princess herself has become a formal suspect.
Question 12
of 12
Gwen Goodwin has filed a million-dollar lawsuit against her rival for a New York City Council seat, claiming that Melissa Mark-Viverito won her primary using what underhanded means?
Goodwin blames Mark-Viverito for a mural of a decapitated chicken that appeared on her apartment building, claiming that headless chickens represent "a curse and a death threat" in Caribbean culture.
January 10, 2014
Anonymous User
Log in to track your scores!
vs.
David Weigel
Slate political reporter
A collapse in budget talks
Kraft's Velveeta shortage
Polar bears in Chicago zoos had to stay indoors
Underground "frostquakes" rocked Canada
At least three dogs froze to the trees on which they were peeing
An escaped convict asked to be returned to his Kentucky cell
While dressed as Robin Hood
The troop surge in Afghanistan
Painting their dorsal fins hot pink
Making them scared of people
"The Star-Spangled Banner"
"Take Me Out to the Ball Game"
"What Makes You Beautiful"
Mitt Romney's grandchildren
Los Angeles vending machines
Ice-cream trucks in the frigid Midwest
Colorado marijuana stores
Stealing her campaign bikes
Average
0 points
You
0 points
David Weigel
Slate political reporter
0 points
Answer quickly to earn more points!
Quiz Template by Chris Kirk and Andrew Morgan