Play the Slate News Quiz
With Jeopardy! superchampion Ken Jennings.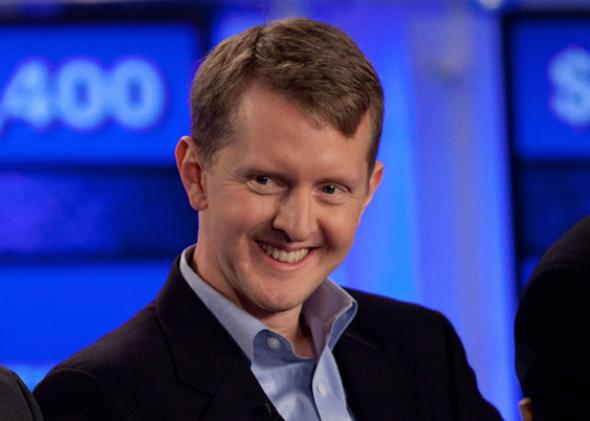 Welcome back to Slate's weekly news quiz. I'm your host, 74-time Jeopardy! winner Ken Jennings.
Every Friday I'll be testing your knowledge with 12 challenging questions on the week's news events, big and small, including happenings in science, sports, politics, and culture both high and low. The questions are multiple-choice, and time is of the essence: You have 30 seconds to answer, and as the seconds tick away, the question's point value drops from 50 all the way down to zero, so you'll want to click on your answer as fast as you possibly can. There's no penalty for an incorrect answer, so feel free to take a guess if your puny human brain fails you.

At the end of the quiz, you'll be able to compare your score with that of the average contestant, as well as with the score of a Slatester whom I've talked into taking the quiz on the record. This week's contestant is Emily Bazelon, a Slate senior editor and the Truman Capote fellow at Yale Law School. She is also the author of Sticks and Stones.
Think you can ace my quiz and beat Bazelon? Good luck!

The Slate Quiz with quizmaster Ken Jennings
As one of your New Year's resolutions this week, allow me to recommend the Slate News Quiz. It's guaranteed to make you an expert on all manner of much-discussed current events, from important geopolitical happenings to completely useless "news of the weird" items from Florida and North Korea. And if you're not happy with your score this week, don't worry. You'll have 51 more chances in 2014 to improve it.
Question 1
of 12
On top of his other controversial opinions, a new video emerged this week of Duck Dynasty's Phil Robertson endorsing what?
"You got to marry these girls when they are about 15 or 16. They'll pick your ducks," advises the rural philosopher in the 2009 video.
Question 2
of 12
Which of these groups was officially labeled a terrorist organization in its home country last week?
Egypt's interim government has been cracking down on former President Mohamed Morsi's group this week, arresting its leaders and seizing their assets.
Question 3
of 12
Last week a federal judge in Illinois ruled that what fictional character is now in the public domain?
Question 4
of 12
Sixteen people were killed on Monday when an explosion tore through a crowded trolley bus in what city?
The blast came after another suspected suicide bombing in the city killed 18 on Sunday. So far, no group has claimed responsibility for the attacks.
Question 5
of 12
According to the New York Times, what has happened more than 900 times in Utah since Dec. 20?
More than 900 couples have received marriage licenses since a District Court judge struck down the state's gay marriage ban two weeks ago.
Question 6
of 12
A new BBC marine documentary will reportedly reveal that young dolphins enjoy what unflattering behavior?
The makers of Dolphins: Spy in the Pod observed dolphins passing around a puffer fish, chewing gently on it, and getting an apparent "buzz" from a low dose of the toxins.
Question 7
of 12
Rebel leader Riek Machar said this week that he had sent a delegate to the new peace talks designed to end the fighting in what country?
Question 8
of 12
Snow Dragon, L'Astrolabe, and Aurora Australis each attempted what mission this week?
After multiple rescue attempts and a week stuck in Antarctic pack ice, the crewmembers of the Akademik Shokalskiy were finally rescued by helicopter on Thursday.
Question 9
of 12
In Rosario, Argentina, what unusual incident led to several residents losing fingers and toes on Christmas Day?
More than 70 bathers in the Parana River were attacked by a school of palometa fish.
Question 10
of 12
On Jan. 1, New York and New Jersey became the 20th and 21st U.S states to do what?
Question 11
of 12
The British Parliament is currently considering a TV-inspired bill nicknamed the "Downton law," which would allow what?
Under current practice, men can't pass along noble titles to their female heirs. The Equality Titles Bill may change that.
Question 12
of 12
A wooden fence has been placed around a sculpture in the New York City borough of Queens that features a man sporting a prominent erection while he does what?
Residents complained that Bear Eats Man, by an Icelandic artist, sanctions bestiality. The sculpture park defended the erection as "an involuntary reflexive response at the moment of being attacked."
January 3, 2014
Anonymous User
Log in to track your scores!
vs.

Emily Bazelon
Slate senior editor
Leaning your seat all the way back on planes
Ukraine's Fatherland Party
Egypt's Muslim Brotherhood
Boring, alcohol-free holiday parties
Sexual experimentation with sea turtles
Picking their blowholes and eating it
Bullying newborn siblings
Getting high on puffer fish toxins
Reaching the wreck of the USS Yorktown
Sending photos back from the moon
Freeing a Russian ship frozen in ice
Flying around the world on solar power
Raise the minimum wage over $7.25
Begin testing of commercial drones
Put voter registration online
Ban cellphones while driving
Manor houses to be restored with public money
Servants to sue their employers
Woman to inherit noble titles
Sexy aristocrats to marry their chauffeurs
Average
0 points
You
0 points

Emily Bazelon
Slate senior editor
0 points
Answer quickly to earn more points!
Quiz Template by Chris Kirk and Andrew Morgan