Play the Slate News Quiz
With Jeopardy! superchampion Ken Jennings.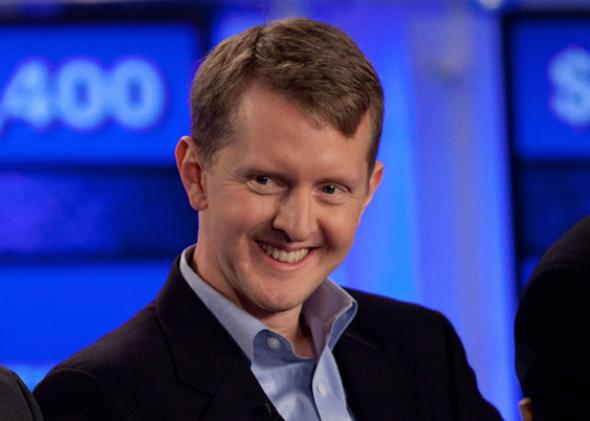 Welcome back to Slate's weekly news quiz. I'm your host, 74-time Jeopardy! winner Ken Jennings.
Every Friday I'll be testing your knowledge with 12 challenging questions on the week's news events, big and small, including happenings in science, sports, politics, and culture both high and low. The questions are multiple-choice, and time is of the essence: You have 30 seconds to answer, and as the seconds tick away, the question's point value drops from 50 all the way down to zero, so you'll want to click on your answer as fast as you possibly can. There's no penalty for an incorrect answer, so feel free to take a guess if your puny human brain fails you.
At the end of the quiz, you'll be able to compare your score with that of the average contestant, as well as to the score of a Slate-ster whom I've talked into taking the quiz on the record. This week's contestant is Rebecca Schuman, an education columnist for Slate.
Think you can ace my quiz and beat Schuman? Good luck!
The Slate Quiz with quizmaster Ken Jennings
On Monday two new studies and an expert panel's report reached identical conclusions: Multivitamin pills do nothing. "Enough is enough," wrote one medical journal. The very same day, the FDA announced that it was investigating the iffy claims of antibacterial soaps. Vitamin supplements, antibacterial soaps ... does nothing work anymore? I think you'll find that the Slate News Quiz is just as effective as ever.
Question 1
of 12
On Saturday, Jade Rabbit reached the Bay of Rainbows. Where did this history-making—and delightful-sounding—achievement occur?
Jade Rabbit is a lunar rover. China is now only the third nation to make a soft landing on the moon.
Question 2
of 12
Eldo Kim, a Harvard sophomore, allegedly went to what lengths to avoid a final exam this week?
Question 3
of 12
Hundreds are dead after a coup attempt failed to unseat President Salva Kiir on Sunday in the world's newest country. In what nation did the unrest take place?
Question 4
of 12
Who described his new career as a painter this week by saying, "My art work allows me to reflect, providing a therapeutic outlet and allows me to remain indoors"?
Zimmerman's first painting, a blue American flag emblazoned with words from the Pledge of Allegiance, has earned six-figure bids on eBay.
Question 5
of 12
According to the New York Daily News, either Sasheer Zamata, Natasha Rothwell, or Kerry Coddett will soon break ground as an African-American what?
If one of the three comics joins the cast in January, as expected, she will become the first black woman on SNL since Maya Rudolph left in 2007.
Question 6
of 12
According to reports from Egypt on Friday, what fell in Cairo for the first time in over a century?
Question 7
of 12
A major diplomatic furor erupted between the U.S. and India this week when an Indian deputy consul general was arrested, strip-searched, and jailed in New York City on what charges?
India has called the arrest "despicable and barbaric," and has even retaliated by removing the concrete safety barriers that protect the American embassy in New Delhi.
Question 8
of 12
Dozens of hot-pink stickers reading "Poo, piss, toilet paper" appeared where this week?
Norwegian officials are hoping to remind residents of the only three substances approved to be flushed down the capital's toilets.
Question 9
of 12
On Wednesday, a presidential advisory panel recommended 46 sweeping changes to limit what?
Question 10
of 12
Great Britain's Prince Harry made headlines by spending the last three weeks engaged in what undertaking?
Last week Harry became the first British royal to reach the South Pole. It was a charity event for Walking With the Wounded, a veterans organization.
Question 11
of 12
A class of primary school students was evacuated from a swimming pool in England due to a scare over a "pedophile" that turned out to be what?
A disabled swimmer had left his artificial leg sticking out from a changing room cubicle, sending staff into a tizzy.
Question 12
of 12
Nicholas Hopkinson, a doctor at Imperial College London, has published a new article that blames vitamin deficiencies for the downfall of whom?
The dark forces of Middle-earth, also including orcs and Smaug, lost due to a lack of vitamin D, he argues, leading to less muscle strength and weaker bones. For foes conspiring in darkness, he recommends more sunlight or eating more eggs.
December 20, 2013
Anonymous User
Log in to track your scores!
vs.

Rebecca Schuman
Slate education columnist
Reporting a shrapnel-bomb hoax
Sending the professor poisoned snacks
Crashing a car into the science building
Woman on Saturday Night Live
A military-backed government
Underpaying her housekeeper
Dealing prescription drugs
Leaving the scene of an accident
The International Space Station
Covering the manholes of Oslo
Rescue efforts in the Philippines
Military exercises off the Falklands
An epic game of beer pong
Average
0 points
You
0 points

Rebecca Schuman
Slate education columnist
0 points
Answer quickly to earn more points!
Quiz Template by Chris Kirk and Andrew Morgan