Play the Slate News Quiz
With Jeopardy! superchampion Ken Jennings.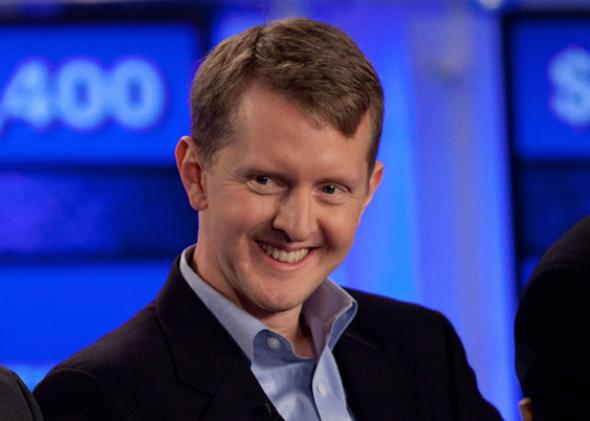 Welcome back to Slate's weekly news quiz. I'm your host, 74-time Jeopardy! winner Ken Jennings.
Every Friday I'll be testing your knowledge with 12 challenging questions on the week's news events, big and small, including happenings in science, sports, politics, and culture both high and low. The questions are multiple-choice, and time is of the essence: You have 30 seconds to answer, and as the seconds tick away, the question's point value drops from 50 all the way down to zero, so you'll want to click on your answer as fast as you possibly can. There's no penalty for an incorrect answer, so feel free to take a guess if your puny human brain fails you.
At the end of the quiz, you'll be able to compare your score with that of the average contestant, as well as to the score of a Slatester whom I've talked into taking the quiz on the record. This week's contestant is Slate culture blogger Aisha Harris.
Think you can ace my quiz and beat Harris? Good luck!

Note: There will be no Slate News Quiz next week due to the Thanksgiving holiday. The quiz will return on Dec. 6.
The Slate Quiz with quizmaster Ken Jennings
Millions of health plans may not be canceled after all, but not everything escaped the chopping block this week. Rob Ford's reality show was canceled after only one episode. Norway challenged the entire rest of the world to a chess match—only to cancel days later. And JPMorgan Chase canceled a Twitter Q&A after fielding questions like, "Does the sleaze wash off with a regular shower, or do you have to use something special like babies' tears?" Don't worry: Today's Slate News Quiz, at least, is still on.
Question 1
of 12
In the last two weeks, American charities have raised more than $33 million so far for what hard-hit people?
More than 11 million people have been affected and many left homeless in the wake of Typhoon Haiyan.
Question 2
of 12
The U.S. Postal Service, which lost $5 billion last year, is hoping to make some of that back by selling what, beginning on Tuesday?
Some stamp collectors have sniffed that the new stamps are (a) a huge sell-out, and (b) not even American.
Question 3
of 12
On Wednesday, the state of Missouri executed Joseph Paul Franklin, a spree killer best known for shooting whom?
The Hustler publisher, wheelchair-bound since 1978, went on the record opposing the execution.
Question 4
of 12
Talks stalled this week at a United Nations conference in Warsaw, Poland, over what contentious issue?
Question 5
of 12
According to a new safety code, as of March 2014, what will be banned in the Canadian city of Vancouver?
In an effort to improve accessibility for people with disabilities, the city's building code will now require that new buildings have levers, not knobs, on all their doors.
Question 6
of 12
What disaster in Illinois killed six people on Sunday?
Whole towns were flattened by the freak late-autumn storms.
Question 7
of 12
On Tuesday, the Senate blocked President Obama's third consecutive nominee for a vacancy in what position?
Democrats' frustration was enough to prompt Harry Reid to deploy the "nuclear option" and change procedural rules.
Question 8
of 12
What did a Swedish company named for tennis star Bjorn Borg drop 450 of in Pyongyang, North Korea, after the city "won" an online poll?
The Swedish fashion company asked users what world city was most in need of a "weapon of mass seduction." A South Korean vote-stuffing campaign gave the honor to Pyongyang.
Question 9
of 12
Who was sentenced to three months in rehab on Wednesday, after getting booted from his last anger-management facility for being too angry?
Brown threw a rock through a car window during his last (not very successful) attempt at anger-management treatment.
Question 10
of 12
Two suicide bombs rocked the Iranian Embassy in what city on Tuesday?
An al-Qaida-linked group claimed responsibly for the act, the newest front in the sectarian violence of the Syrian civil war.
Question 11
of 12
The Harrisburg, Pa. Patriot-News has published a retraction for an editorial in which it said that what was "silly" and deserving of "the veil of oblivion"?
The retraction of the 1863 editorial marked the 150th anniversary, on Tuesday, of the historic Abraham Lincoln speech.
Question 12
of 12
For the second time in a month, who has found more than $1 million of gold bars stashed by a toilet?
The first stash was being smuggled aboard a plane from Dubai to Bangladesh. The second was found after a Mumbai-Kolkata flight last week.
November 22, 2013
Anonymous User
Log in to track your scores!
vs.
Aisha Harris
Slate culture blogger
Typhoon-displaced Filipinos
Pakistani earthquake victims
Latte drinks and pastries
"Postal-inspired" fashion and accessories
Secretary of Homeland Security
Federal Housing Finance Agency head
D.C. federal appeals court judge
Pairs of hot-pink underwear
An airplane cleaning crew
Security guards at Berlin's train station
Average
0 points
You
0 points
Aisha Harris
Slate culture blogger
0 points
Answer quickly to earn more points!
Quiz Template by Chris Kirk and Andrew Morgan