Play the Slate News Quiz
With Jeopardy! superchampion Ken Jennings.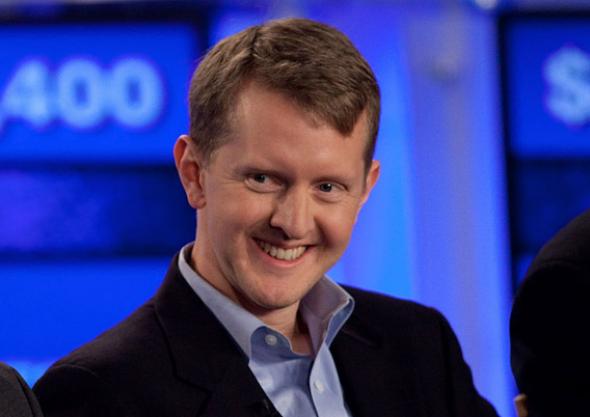 Welcome back to Slate's weekly news quiz. I'm your host, 74-time Jeopardy! winner Ken Jennings.

Every Friday I'll be testing your knowledge with 12 challenging questions on the week's news events, big and small, including happenings in science, sports, politics, and culture both high and low. The questions are multiple-choice, and time is of the essence: You have 30 seconds to answer, and as the seconds tick away, the question's point value drops from 50 all the way down to zero, so you'll want to click on your answer as fast as you possibly can. There's no penalty for an incorrect answer, so feel free to take a guess if your puny human brain fails you.

At the end of the quiz, you'll be able to compare your score with that of the average contestant, as well as to the score of a Slate-ster whom I've talked into taking the quiz on the record. This week's contestant is David Auerbach, who writes Slate's new tech column Bitwise.

Think you can ace my quiz and beat Auerbach? Good luck!
The Slate Quiz with quizmaster Ken Jennings
In Ann Arbor, Mich., this week, Democrat Jack Eaton won his city council election against a write-in candidate: a 20-pound carp. Despite "TWENTY POUND CARP" signs all over town and an active Twitter presence, the carp pulled in fewer than 200 write-in votes. "I consider a 20-pound carp to be a substantial opponent," said Eaton magnanimously. The carp also scored very poorly on this week's Slate News Quiz. Can you do better?
Question 1
of 12
The U.S. Senate spent the week discussing ENDA, new legislation aimed at what issue?
Question 2
of 12
Last week, San Diego's Cecilia Abadie became the first person ever to get a traffic ticket for doing what?
Abadie, pulled over for allegedly going 80 in a 65, was told that even though her Glass display was turned off, it violated California law by "blocking her view."
Question 3
of 12
On Monday, tens of thousands of organized protesters chanted "Death to America!" in what country's largest anti-American rallies in years?
It's a yearly event on the anniversary of the 1979 takeover of the American embassy in Tehran. This year, the Iranian media says millions took part.
Question 4
of 12
Eight Brooklyn sixth-graders ended up in the hospital last week due to the release of a "noxious odor" from what?
It's unclear why the students were hospitalized, but a Pennsylvania high school banned the spray in March after a student was hospitalized for an "extreme" allergic reaction.
Question 5
of 12
Who may have been murdered with radioactive polonium in 2004, according to a new review by Swiss forensics experts?
The level of polonium in Arafat's body was at least 18 times the normal amount, a finding that one scientist has called "a smoking gun."
Question 6
of 12
A new survey from the University of Nebraska reveals that college students do what 11 times a day, on average, during class?
86 percent of the students surveyed use their devices to text in class.
Question 7
of 12
In a newly published paper, scientists in Belgium unveiled their discovery of the ALL, a previously unknown what?
The surprising discovery of the well-hidden body part, the anterolateral ligament, may revolutionize knee surgeries.
Question 8
of 12
Who is Richie Incognito, the subject of many news headlines beginning on Monday?
Question 9
of 12
According to newly released documents, what successfully serviced only six people on Oct. 1, 2013?
The next day, only 242 more people were enrolled, according to the House committee investigating the troubled Obamacare portal.
Question 10
of 12
What 1980s newsmaker was in trouble with the law again over the weekend, in court for allegedly selling marijuana to an undercover cop?
In 1984, Goetz was the Manhattan "subway vigilante" who shot four black teens on a downtown-bound 2 train.
Question 11
of 12
At a press conference Wednesday, who said, "The verdict from last night ... is that people like who I am and how I govern"?
Christie won a landslide re-election victory as the Republican governor of predominantly Democratic New Jersey, taking 60 percent of the vote.
Question 12
of 12
According to Usain Bolt's forthcoming memoir, what did he do roughly 1,000 times during the 2008 Beijing Olympics?
Bolt says he ate nothing but McDonald's during the games, as he doesn't like Chinese food.
November 8, 2013
Anonymous User
Log in to track your scores!
vs.

David Auerbach
Slate tech columnist
Sleeping in a self-driving car
World War II-era sandwiches
Saltwater lake in Antarctica
A Nevada assemblyman who defended slavery
A Miami Dolphin suspended for allegedly bullying a rookie
The skydiver who survived a plane crash
The alter ego Rob Ford uses to buy crack
The Gerald R. Ford Presidential Library
Listen to "You're Beautiful" by James Blunt
Average
0 points
You
0 points

David Auerbach
Slate tech columnist
0 points
Answer quickly to earn more points!
Quiz Template by Chris Kirk and Andrew Morgan