Play the Slate Quiz—Special MLB Playoffs Edition!
With Jeopardy! superchampion Ken Jennings.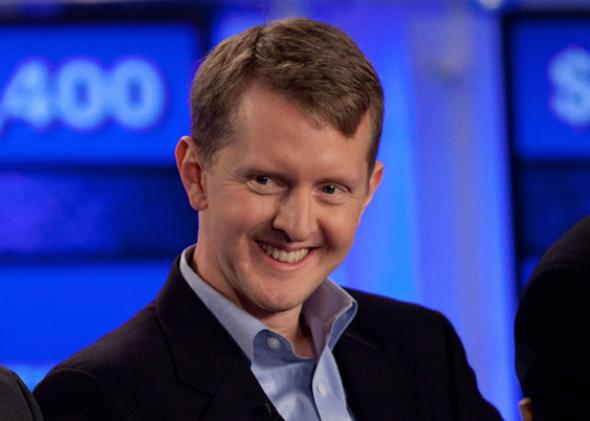 Welcome back to Slate's weekly news quiz. I'm your host, 74-time Jeopardy! winner Ken Jennings.
Every Friday I'll be testing your knowledge with 12 challenging questions on the week's news events, big and small, including happenings in science, sports, politics, and culture both high and low. The questions are multiple-choice, and time is of the essence: You have 30 seconds to answer, and as the seconds tick away, the question's point value drops from 50 all the way down to zero, so you'll want to click on your answer as fast as you possibly can. There's no penalty for an incorrect answer, so feel free to take a guess if your puny human brain fails you.
At the end of the quiz, you'll be able to compare your score with that of the average contestant, as well as to the score of a Slate-ster whom I've talked into taking the quiz on the record. This week's quiz is a special major league edition, with trivia about the MLB postseason. The contestant is Mike Pesca, one of the hosts of Slate's sports podcast Hang Up and Listen and a sports correspondent for NPR.
Think you can knock it out of the park and beat Pesca? Good luck!


The Slate Quiz with quizmaster Ken Jennings
With the government shut down, the Slate News Quiz is also on furlough this week. In its place is a special quiz celebrating the Major League Baseball playoffs, which began Tuesday. How much do you know about the legends and lore of the national pastime's postseason? I hope you dominate this quiz like Kirk Gibson taking Dennis Eckersley deep, like Don Larsen pitching his perfect game, like Pedro Martinez decking Don Zimmer. Play ball!
Question 1
of 12
It was revealed in 2001 that, when Bobby Thomson of the Giants hit his famed "Shot Heard 'Round the World" in a 1951 playoff game, he had what secret advantage?
Question 2
of 12
During a 2007 division series game, Yankees pitcher Joba Chamberlain gave up the game-tying run to the Indians due partly to which of these biblical plagues?
Chamberlain was swarmed by a cloud of midges in the eighth inning. While under attack, he gave up two walks and threw two wild pitches; the Yankees lost 2-1.
Question 3
of 12
When Curt Schilling's video game company went under last year, he raised $92,613 by auctioning off what famous possession, still soaked in blood from the 2004 World Series?
The first "bloody sock," which he wore in Game 6 of the AL Championship Series, will never be sold or exhibited in the Hall of Fame. Schilling threw it away in the clubhouse after the game.
Question 4
of 12
Who is the only athlete ever to play in both a World Series and a Super Bowl?
On Oct. 11, 1992, Sanders played cornerback for the Falcons in Miami, then took a charter jet to Pittsburgh to suit up for the Braves' NLCS game against the Pirates.
Question 5
of 12
Who put out Vic Wertz in the legendary World Series fielding play known simply as "The Catch"?
Question 6
of 12
What was the umpire's call on the controversial Steve Bartman play in 2003 that helped keep the Cubs from their first World Series in almost 60 years?
The Cubs haven't won a single playoff game since Bartman, a fan seated in the left field corner, fatefully reached for a foul ball that Moises Alou had a play on.
Question 7
of 12
More than 20 years before a major league team was ever named for the city of Miami, what science fiction movie predicted a Miami team would play in the 2015 World Series?
According to the copy of USA Today seen in the movie, the Cubs swept the unnamed Miami team in the series. It's not revealed why a paper newspaper is still being printed in 2015.
Question 8
of 12
By a wide margin, Manny Ramirez holds the major league postseason record for most what?
Ramirez hit 29 postseason homers during his 19-year career, well ahead of runners-up Bernie Williams (22) and Derek Jeter (20).
Question 9
of 12
In the 1985 National League Championship Series, the Cardinals were forced to bench eventual Rookie of the Year Vince Coleman when he suffered what freak diamond injury?
The Coleman-less Cardinals eventually lost the World Series in seven games to the Royals.
Question 10
of 12
Tim McCarver, who will be calling his last World Series this year for Fox, performed what rare feat as a player during the 1964 World Series?
It was the front end of a double steal. The short list of other players who have stolen home in a World Series includes Ty Cobb and Jackie Robinson.
Question 11
of 12
Amazingly, these all-time major league stars have only one postseason series appearance between them. Which of them did eventually see playoff action?
Mattingly's Yankees finally made the American League Division Series in 1995, the last games of his career.
Question 12
of 12
What was "Merkle's Boner," which cost the New York Giants the National League pennant in 1908?
Rookie Fred Merkle committed the base-running error amid a wild end-of-game celebration, only to have the apparent win nullified by the umpires.
October 4, 2013
Anonymous User
Log in to track your scores!
vs.

Mike Pesca
Co-host of Slate's sports podcast, Hang Up and Listen
His bat was loaded with cork
His team was stealing signs using a telescope
Pitcher Ralph Branca was hung over
He had refrigerated his underwear
Back to the Future Part II
He tied his shoes too tight
He pulled a muscle spitting sunflower seeds
He separated his shoulder during a high-five
He was run over by a tarp machine
Made an unassisted triple play
A failure to touch second
A painful, game-ending erection
Average
0 points
You
0 points

Mike Pesca
Co-host of Slate's sports podcast, Hang Up and Listen
0 points
Answer quickly to earn more points!
Quiz Template by Chris Kirk and Andrew Morgan