Play the Slate News Quiz
With Jeopardy! superchampion Ken Jennings.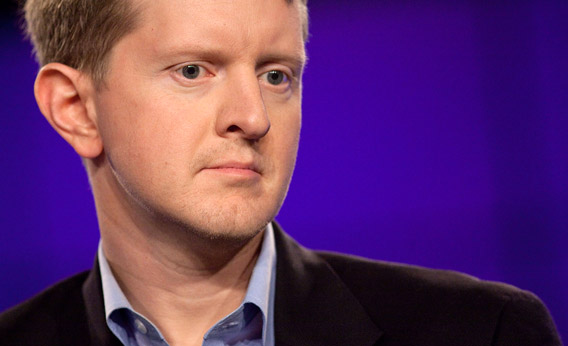 Welcome back to Slate's weekly news quiz. I'm your host, 74-time Jeopardy! winner Ken Jennings.
Every Friday I'll be testing your knowledge with 12 challenging questions on the week's news events, big and small, including happenings in science, sports, politics, and culture both high and low. The questions are multiple-choice, and time is of the essence: You have 30 seconds to answer, and as the seconds tick away, the question's point value drops from 50 all the way down to zero, so you'll want to click on your answer as fast as you possibly can. There's no penalty for an incorrect answer, so feel free to take a guess if your puny human brain fails you.
At the end of the quiz, you'll be able to compare your score with that of the average contestant, as well as to the score of a Slate-ster whom I've talked into taking the quiz on the record. This week's contestant is Tressie McMillan Cottom, a Ph.D. candidate in sociology at Emory University who writes Slate's new higher-ed column, Counter Narrative.
Think you can ace my quiz and beat McMillan Cottom? Good luck!
The Slate Quiz with quizmaster Ken Jennings
The great songwriter Lou Reed died this week of liver disease at age 71. Reed once sang, "Some people work very hard, but still they never get it right," but that didn't apply to his own life at all, and I hope it doesn't apply to your attempt at today's Slate News Quiz, either. Are you beginning to see the light?
Question 1
of 12
What world landmark was evacuated Monday after an SUV burst through security barriers and crashed into a crowd of people?
The Chinese government called the incident a deliberate terrorist attack.
Question 2
of 12
In the month of October, New York City Mayor Michael Bloomberg spent almost $2 million of his own money to attack whom?
Bloomberg's pro-gun control super PACs have donated heavily to the governor's race in Virginia, due to Cuccinelli's strong pro-gun position.
Question 3
of 12
This week, Dell offered a replacement part to thousands of users who had complained that their laptops smelled like what?
"The smell is absolutely not urine or any other type of biological material," Dell reassured users in its statement.
Question 4
of 12
Earlier this month, Indiana man Kyle Froelich married Chelsea Clair, who—unusually—was also his what?
Three years ago, Clair donated the kidney that saved Froelich's life.
Question 5
of 12
According to Michigan congressman Mike Rogers, what should the French be celebrating this week by "popping champagne corks"?
"If the French citizens knew exactly what that [surveillance] was about, they would be applauding," the House Intelligence Committee chairman insisted to CNN.
Question 6
of 12
Merchant navy officer Rachel Owens told the media this week that ships have recently discovered what successful means of deterring Somali pirates?
A spokesman for the Security Association for the Maritime Industry said, "I'd imagine using Justin Bieber would be against the Geneva Convention."
Question 7
of 12
On Monday, due to technical difficulties, what was pushed back six weeks to March 31, 2014?
Question 8
of 12
Which of these made its final New York Times appearance ever last week?
Among other style guide changes, the paper of record has also decided to drop the capital W in "website" and now allows "tweet" as a verb.
Question 9
of 12
This week, laws in Texas and Oklahoma dealing with what issue were both ruled unconstitutional?
Question 10
of 12
A woman in Fargo, N.D., told a local radio station that this year for Halloween, she'll be giving overweight trick-or-treaters what instead of candy?
"You [sic] child is, in my opinion, moderately obese, and should not be consuming sugar and treats," says the neighborly note.
Question 11
of 12
The United Nations confirmed on Tuesday that what health threat of yesteryear has now broken out in the eastern Syrian city of Deir al-Zour?
There hasn't been a case of polio in Syria since 1999. The U.N. is beginning a massive immunization program.
Question 12
of 12
Last week, artist Dmitri Galitzine made headlines by crossing from England's Portsmouth Harbor to the Isle of Wight in what unusual way?
Galitzine creates sculpture from oversized vegetables. The 3-mile crossing in an outboard motor-powered squash took him less than two hours.
November 1, 2013
Anonymous User
Log in to track your scores!
vs.

Tressie McMillan Cottom
Slate's higher-ed columnist
Jerry Lewis' new documentary
The Obamacare sign-up deadline
The opening of One World Trade Center
Congress's next budget deadline
The release of the Xbox One
The name of the Washington NFL team
Swimming using only his chin
Stilt-walking dressed as Jesus
Average
0 points
You
0 points

Tressie McMillan Cottom
Slate's higher-ed columnist
0 points
Answer quickly to earn more points!
Quiz Template by Chris Kirk and Andrew Morgan