Play the Slate News Quiz
With Jeopardy! superchampion Ken Jennings.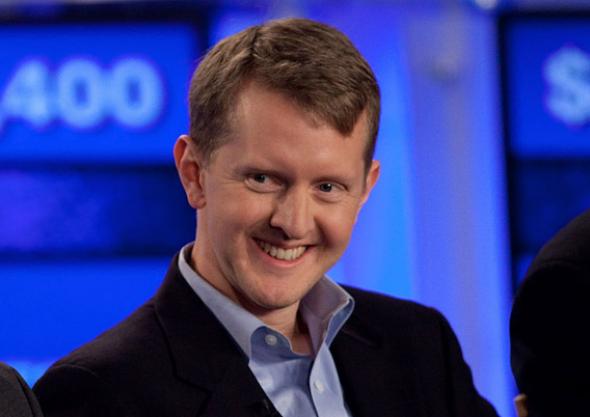 Welcome back to Slate's weekly news quiz. I'm your host, 74-time Jeopardy! winner Ken Jennings.
Every Friday I'll be testing your knowledge with 12 challenging questions on the week's news events, big and small, including happenings in science, sports, politics, and culture both high and low. The questions are multiple-choice, and time is of the essence: You have 30 seconds to answer, and as the seconds tick away, the question's point value drops from 50 all the way down to zero, so you'll want to click on your answer as fast as you possibly can. There's no penalty for an incorrect answer, so feel free to take a guess if your puny human brain fails you.
At the end of the quiz, you'll be able to compare your score with that of the average contestant, as well as with the score of a Slate-ster whom I've talked into taking the quiz on the record. This week's contestant is Dahlia Lithwick, a National Magazine Award-winning columnist who writes about the courts and the law for Slate.
Think you can ace my quiz and beat Lithwick? Good luck!
The Slate Quiz with quizmaster Ken Jennings
This week in Humberside, England, 77-year-old John Wildey, a passenger on a light aircraft, was forced to land the plane himself when the pilot passed out. Air traffic control and two flight instructors helped the man land safely, though he'd never flown a plane before. "I was just the person holding the stick," said Wildey humbly. Do you have that kind of grace under pressure? Find out with this week's Slate News Quiz.
Question 1
of 12
What began to be dismantled this week, in an operation of unprecedented scale that is expected to last until mid-2014?
Two teams are already on the ground in Damascus; the United Nations plan to eventually dispatch 100 specialists, who will be based in Cyprus, to sequester and demolish the weapons.
Question 2
of 12
According to an upcoming book excerpted in the New York Times Magazine this week, "Friendstalker" was an early name considered for what?
"Friendstalker" was soon replaced by "Vibrate," which led to "Twitch" and finally "Twitter."
Question 3
of 12
A surprising new study from England's University of Lincoln suggests that what, contrary to popular belief, stresses out most cats?
The cats in the study all showed elevated levels of stress hormones when handled by humans. Some just tolerated it better than others.
Question 4
of 12
Which of the following currently has the lowest approval rating?
The news from the new Public Policy poll isn't all bad for members of Congress: They're still more popular than heroin, Charles Manson, Syria, and Miley Cyrus.
Question 5
of 12
Three defendants convicted of murder in DUI cases are each asking the New York State Court of Appeals to throw out their convictions on what grounds?
In this novel defense, the defendants claim they were too intoxicated to know they were driving intoxicated.
Question 6
of 12
In a surprise result, Ireland voted last Friday against an austerity referendum to abolish what?
Prime Minister Enda Kenny had argued that the upper chamber of the Irish parliament was increasingly irrelevant to the nation's government.
Question 7
of 12
Government shutdown veteran Newt Gingrich has offered to personally pay for what federal function, which has been out of service since last Tuesday?
Gingrich is a high-profile animal lover who once dreamed of a career as a zoo director.
Question 8
of 12
Talking to Jimmy Fallon on Monday night, Sir Paul McCartney rather improbably claimed to have invented what?
They showed a photo he took of himself in the 1960s. He also joked about inventing the photobomb.
Question 9
of 12
What newly redesigned items were released Tuesday by the U.S. government, now incorporating a blue 3-D "security ribbon"?
The strip, which shifts from "100"s to images of the Liberty Bell, is designed to make the bill harder to counterfeit—at least until forgers figure out how to duplicate it.
Question 10
of 12
A new study in Science by two New York psychologists found that subjects could increase their empathy by doing what?
In a victory for snobs everywhere, writers like Chekhov and Dickens improved readers' empathy skills much more than popular fiction or nonfiction did.
Question 11
of 12
On Wednesday, President Obama nominated the first woman ever to what government post?
Economist Janet Yellen is currently the Fed's vice chairwoman.
Question 12
of 12
A woman in Zaporozhye, Ukraine, is dead after she and her boyfriend decided to "experience an extreme sensation" by having sex where?
The man had both his legs amputated by the train, and to make matters worse, the railroad may prosecute him for trespassing.
October 11, 2013
Anonymous User
Log in to track your scores!
vs.
Dahlia Lithwick
Slate legal columnist
The Fukushima nuclear plant
The U.S. federal government
They were trying to commit suicide
They were driving on St. Patrick's Day
They were very intoxicated
Their victims weren't U.S. citizens
The National Zoo's "panda cam"
Unplugging from social media
Having more than two children
Secretary of the Treasury
Chair of the Joint Chiefs of Staff
Average
0 points
You
0 points
Dahlia Lithwick
Slate legal columnist
0 points
Answer quickly to earn more points!
Quiz Template by Chris Kirk and Andrew Morgan