Play the Slate News Quiz
With Jeopardy! superchampion Ken Jennings.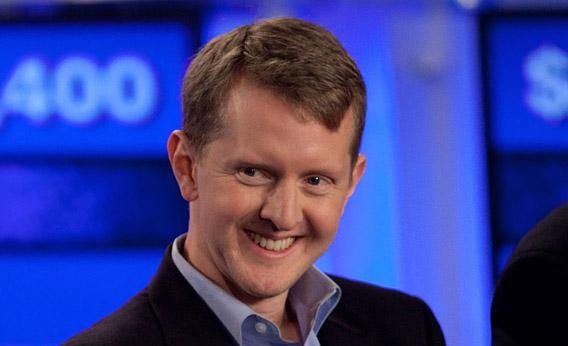 Welcome back to Slate's weekly news quiz. I'm your host, 74-time Jeopardy! winner Ken Jennings.
Every Friday I'll be testing your knowledge with 12 challenging questions on the week's news events, big and small, including happenings in science, sports, politics, and culture both high and low. The questions are multiple-choice, and time is of the essence: You have 30 seconds to answer, and as the seconds tick away, the question's point value drops from 50 all the way down to zero, so you'll want to click on your answer as fast as you possibly can. There's no penalty for an incorrect answer, so feel free to take a guess if your puny human brain fails you.
At the end of the quiz, you'll be able to compare your score with that of the average contestant, as well as to the score of a Slatester whom I've talked into taking the quiz on the record. This week's contestant is Slate columnist Daniel Engber.
Think you can ace my quiz and beat Engber? Good luck!

A study released by researchers in China this week found that, of all the emotions, anger is the one most successfully spread online. If that's true, and your score on the Slate News Quiz makes you angry this week, I urge you to remember the words of a prayer I read this week on the tattooed midriff of Miss Kansas: "God grant me the serenity to accept the things I cannot change, courage to change the things I can, and wisdom to know the difference." Good luck!
Question 1
of 12
Titan Salvage, a Florida-based firm, this week began the yearlong process of trying to salvage what?
Question 2
of 12
The Booker Prize Foundation has changed its rules so that, beginning in 2014, what will be eligible to win the prestigious award?
Previously, authors had to be from the British Commonwealth or Ireland. Now any novel written in English is fair game.
Question 3
of 12
Syrian ambassador Bashar Jaafari announced last week that President Assad had signed what?
Question 4
of 12
What is to blame for 23,000 deaths a year, according to a new report from the Centers for Disease Control?
The CDC described the estimate, which focused only on deaths that could be directly attributed to the bacteria, as conservative.
Question 5
of 12
A proposal by Washington, D.C. regulators would make it the first major U.S. city to enforce a mandatory 24-hour waiting period before residents can get what?
Many tattoo parlors are near bars, and the city health department hopes to cut down on immediately regretted, alcohol-fueled tattoos and piercings.
Question 6
of 12
What was played in North Korea for the first time on Saturday?
Two South Korean weightlifters won medals at a competition in Pyongyang, leading to the first time their flag and anthem have been allowed on North Korean soil.
Question 7
of 12
A South Carolina woman named Vernett Bader was arrested for allegedly stabbing her roommate with a kitchen knife when he refused to stop doing what?
Question 8
of 12
The California legislature approved plans last week to hike what to $10, the highest in the nation?
Question 9
of 12
According to a government advisory issued Wednesday, what is expected to remain high through Sunday before subsiding?
Over 11,750 Coloradans were evacuated in the flooding. Waters are now cresting downstream into Nebraska.
Question 10
of 12
"This doesn't look like France," Jonathan Trappe posted Friday on Facebook from Newfoundland, after failing in his attempt to do what?
The Raleigh, North Carolina IT manager blamed "technical difficulties" for the crash landing.
Question 11
of 12
House Republicans agreed this week to vote on a plan that would only avert a government shutdown if what condition is met?
The bill has no hope of passing the Senate, but it does allow John Boehner to remain Speaker of the House.
Question 12
of 12
Jennifer Mee, a woman facing murder charges in Florida, became briefly famous as a teen in 2007 for doing what?
"Hiccup Girl" appeared on the Today show for her nonstop month of hiccupping. More recently, she was charged with first-degree murder for her alleged role in a 2010 robbery-gone-wrong.
You got 8 out of 12 answers correct in 20 minutes 30 seconds.
Answer quickly to earn more points!
September 20, 2013
Anonymous User
Log in to track your scores!
vs.

Daniel Engber
Slate columnist
The Seaside Park boardwalk
The Deepwater Horizon rig
The Costa Concordia cruise ship
Michael Douglas and Catherine Zeta-Jones' marriage
An international chemical weapons treaty
The "Geneva 2" peace framework
A trade and military alliance with Russia
New antibiotic-resistant bacteria
The anti-vaccination movement
The South Korean national anthem
Making fun of her cat on Facebook
The toll on the Golden Gate Bridge
Record temperatures in New England
Risk of a terrorist attack on U.S. embassies in Africa
The flooded South Platte River
The usual brief public anti-gun sentiment
Float to Europe using 370 helium balloons
"Astrally project" his followers to Lourdes
Jet-ski across the Atlantic
Smuggle himself overseas via parcel post
Immigration reform is tabled
Calling 911 over an incorrect Subway order
Making a "pregnancy pact" with friends
Average
0 points
You
0 points

Daniel Engber
Slate columnist
0 points
Recent Quizzes
Loading your quiz history...
←
→
Quiz Template by Chris Kirk and Andrew Morgan
Correction, Sept. 20, 2013: This quiz originally identified the flooding in Colorado as coming from the North Platte River. It was from the South Platte River.